Adrian's tips on giving your hiking gear a longer life
When we talk about gear maintenance, let's first of all figure out who you are. Who you are as a person will largely determine the level of maintenance you give your equipment and the values you place on a range of things to do with your equipment.
Have a think about a few of these:
I don't mind if my gear is grubby, that's what it's for.
I like new shiny gear with bells and whistles.
My gear is old and fixed, then fixed again.
When my shoelace breaks, that means I get to buy new shoes!
My sleeping bag is in the garage somewhere.
I clean and dry my hiking shoes after every walk.
So, for me – I love buying new gear but don't get to do it very often because I take care of my gear by washing and drying it, I know where everything is and I store it neatly and properly. I also want the absolute most from my gear so when it starts getting old and worn, I glue, stitch, tape, replace and repair it until it's lasted a lifetime.
How much can you get out of a pair of trail runners?
(Hint: –>)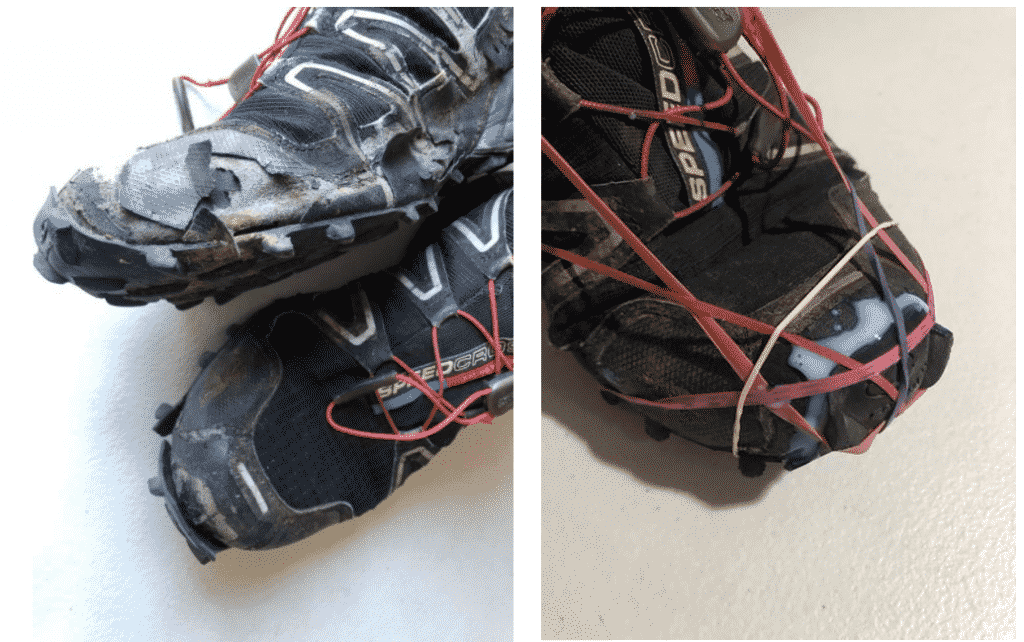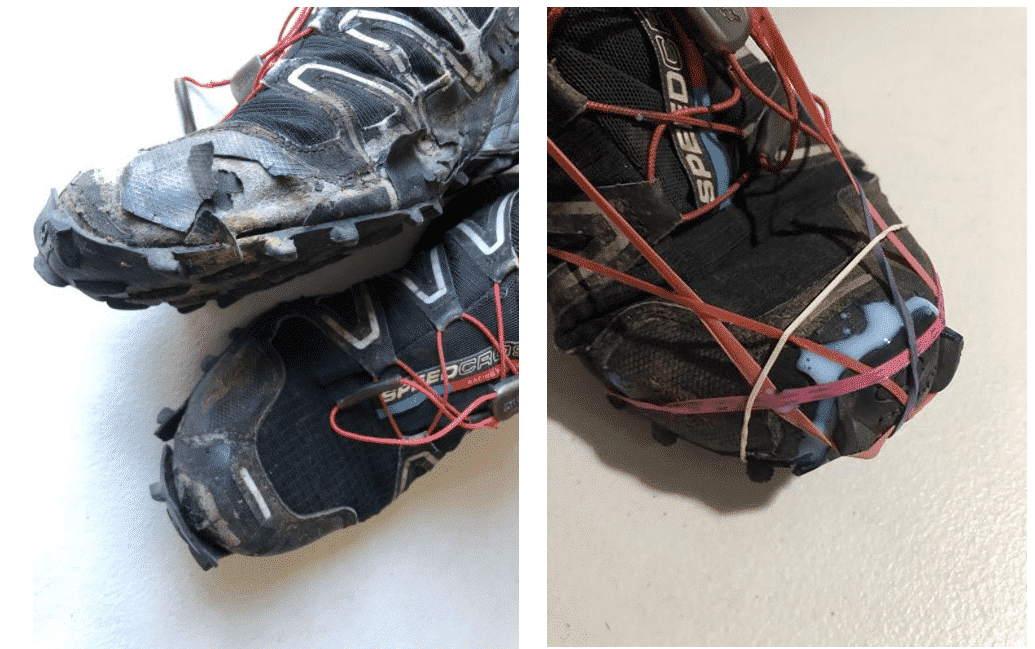 So now that we have decided if we are going to actually maintain our gear for longevity, or we just want to use it for a while then buy some new stuff. We can look at how we actually maintain equipment and clothing in working order.
I generally recommend you clean, maintain, repair, dry any gear as soon as you return from a trip, and by that I mean within 24hrs. So if it was a day walk, do it that night or first thing in the morning, or at least get to it by Monday night. This is because by the time Tuesday arrives, you maybe can't be bothered and if you get to Wednesday, mould and mildew is already starting to grow. My personal routine is to walk in the door, unload the bag and put food and utensils in the kitchen, throw washing in a pile on the floor, take my bigger gear to the garage and quickly throw it open to dry (if dry then it goes straight back in its place). This takes less than 15 minutes. Then get off your smelly clothes and throw everything in the wash while you have a shower. There is nothing worse than having a shower and then going over to unpack your rucksack – holy crap – is that what I smelt like?
The single biggest reason to do this is that your gear is always ready to go! Ie: your best hiking friend rings on Saturday evening "Hey, I'm going on a hard TSA walk tomorrow and they have one spare spot, do you want to come?" Your answer is "Hell yeah, my stuff is all ready!"
So here are all my best tips to maintain your gear in good condition. The gear is below and the list is in what I consider to be a priority. You can choose to do more, you can choose to do less.
Sleeping bag
This is probably your best most expensive piece of equipment!
Immediately remove from it's stuff sack and make sure it's dry
Air it for a day if it's had a few uses.
Store in a dry location either in it's storage bag, a large garbage bag, or hang it up.
I wash my sleeping bags about once every ten years and I always use a sleeping bag liner. Washing will clean the down and improve the bag's ability to puff back up again but must be done very carefully. If it's time to wash it:
Wash by hand or on a very gentle cycle in a front loading washing machine. Top loaders are generally tougher on gear.
Use specifically designed detergent for Down
Use extreme care when handling the wet bag as the internal baffles can break.
Lay the bag out but not in direct sunlight and every now and then gently manipulate the bag to break up the lumps of down.
Sleeping Mat
Sleeping mats often bear the burden of dirt, rips and abrasions. Depending on your specific mat type:
Make sure it's dry before you store it
When it gets too dirty, sipe it down with warm soapy water.
Roll it up neatly again if you did a crap job at packing it.
Puffer Jacket
This is one of those pieces of gear that gets a lot of use and has the high potential to get damaged. Essentially it's a sleeping bag except that you are wearing it all day long in the dust, drizzle, forest, and campsite. Treat it the same as your sleeping bag.
Rain Gear
For most of us the rain gear doesn't get a lot of use compared to our other garments but for this reason we can neglect them as a result. Most rain clothing will be treated with DWR (Durable Water Repellent) and this eventually wears off. If the water doesn't bead on your rain jacket that's a good indication that it's time for a treatment.
Goretex likes being washed reasonably regularly, this cleans the tiny pores in the material and allows it to 'breath'
Check for stuff in the pockets
Hand wash or use a machine on gentle cycle and use a recommended product/detergent.
Dry in the shade
Store perfectly dry.
I store mine by folding the sleeves into the middle, fold the jacket into the middle, then roll it up into the hood.

Tent
Care and maintenance of a tent is similar to looking after wet weather gear. The one additional complication is that because you aren't wearing them during the day they will often sit in your pack in a damp state and have the potential to start going mouldy quite quickly.
Make sure that the tent is as dry as possible each day. Do this by getting up and immediately unpacking the tent, hang the fly up somewhere on a tree and turn the tent on its side so the bottom can dry a bit while you have breakfast.
Shake the dirt, sand etc out from the tent while it is still put together. Then pack it all up each day as best you can.
Hand wash the tent inner. Hand wash or gentle machine wash the outer fly. Only use recommended cleaning products and don't use chemicals or detergents.
Only ever put a tent away or into storage if it is PERFECTLY dry.
Repair tears or holes in the floor or fly with Tenacious Tape.
Tenacious Tape is my recommended gear repair tape for literally anything. Goretex, puffer jackets, tent flys, bags, bottles, bladders. This stuff is sticky, highly flexible and long wearing. My advice is to measure, cut and tape well ONCE because it doesn't come off !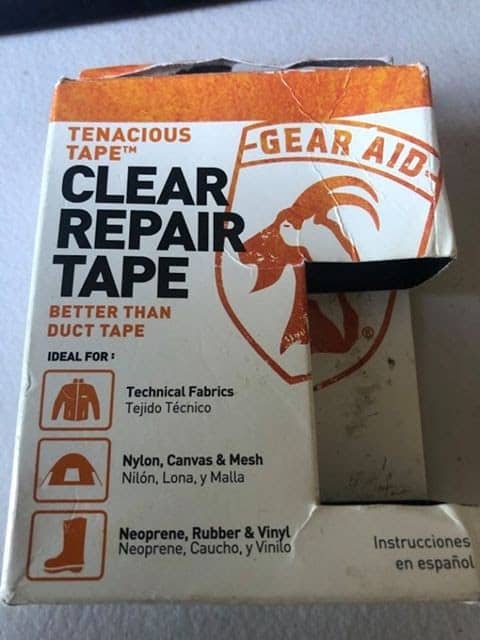 Rucksack and Day Bag
After most hikes the dirtiest piece of gear apart from my footwear and my shorts is my rucksack. It is a loader, seat, tent peg, bush basher, and everything else. It is the first onto the ground and last off. Wet dry, mud, UV rays, oh the poor thing!
Shake it upside down to make sure it's completely empty.
You can brush the dirt off
Hose it down, especially if you had a beetroot relish explosion! Yep that happened to me.
Every once in a while, hand wash it in the bath with a recommended cleaning product depending on the material.
Completely dry it. Always store it perfectly dry
Footwear
Without a doubt footwear is the equipment that gets dirtiest. Having said that it is made to take everything that we throw at it so in most cases allowing the footwear to dry off and then remove all the excess mud and dirt is all that we need to do.
I hang mine on the fence and vigorously hose off all the mud.
Check the tread and upper for any damage (this is where you either fix them or buy a new pair!)
Every now and then I throw them in the wash with an old towel to stop then smashing around too much.
I do own and occasionally use a pair of heavy Scarpa leather boots and treat them with Dubbin. Make sure they are perfectly clean and warm the leather to help it absorb the wax.
Cooking Gear
Eating utensils, cups and plates should get a good wash on a daily basis to reduce hygiene issues.
Throw all your gear in the dishwasher (if suitable) or give it a good hand wash
Depending on the type of stove that you have you may also want to give it a thorough wash in hot water. That's about all you can do for most cooking gear.
Keep an eye out for damaged gear such as enamel cracking, melted or cracking silicone, overheated plastics, scratched teflon, wearing aluminum etc.
Bladders and bottles
Water bladders and water bottles can be prone to growing mould so always triple rinse and then store the bottles super dry and throw the bladders in the freezer.
Good luck with your gear management and maintenance, and remember the main reason you do this is so that it doesn't break or stink on the trail. Reliable gear means you have less worries and you can sit back and enjoy your trip.
-Adrian