I often get asked what my favorite day hike is, or which is my favourite track. I do have a few I really love walking but particularly enjoy the fact that I get to walk in a variety of locations, and explore lots of areas from sandy beach walks, to thick muddy steep forest trails and hot rocky scrambles, plus everything in between. So we decided to put the question to our field guides and ask them what their favorite hikes were and see if we could come up with a TSA staff best five hikes, and of course why they love them.  What I love about everyone's responses was that regardless of what hike they preferred, they all enjoyed the company of other clients that attended (which is great news for us!).
They also expressed the same joy of being able to walk a variety of locations and not have to repeat the same trail over and over again which is a common factor in many tour guiding companies who just go back to the same or or two places. This does reflect one of our goals which is to provide a huge range of experiences and locations for everyone to explore, and thereby create a wide opportunity for you to stick at your grade, but still be able to come back time and time again and spend time outdoors without running out of places to go. Just remember that eventually you'll have to get out on those grade four hikes and extend yourself!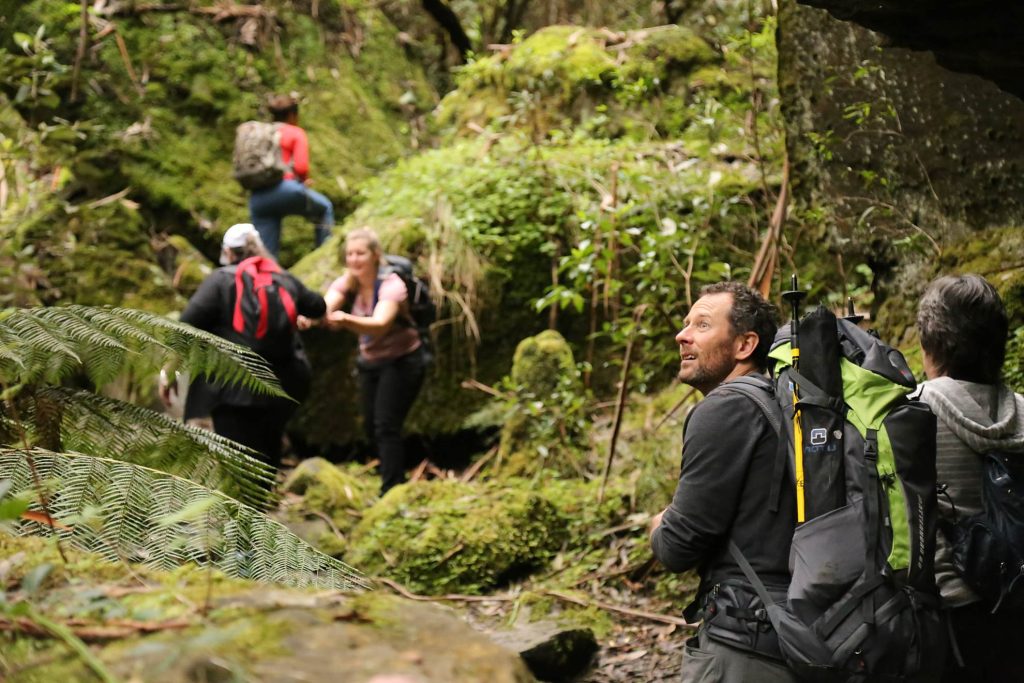 We are always investigating new walks and this is actually one of my favourite parts of hiking, which is going into the unknown, losing myself, finding myself and then making sure it all fits together. Then we get to take everyone else safely and with the support of our awesome team, sharing that knowledge and passion of hiking on lots of different trails from beginners to really hard grade five hikes that are a challenge.
We believe it's this passion for exploring and friendship on the trail that makes our guides enjoy their jobs, which we all agree has been one of the biggest perks of working in Take Shape Adventures. So below I have put each guide's favourite hike and why they love it. I have then listed our top five so you can put them on your list to tick off and see if you agree with our selection. 
Me first… 
My fav day walk is the navigation training walk one in Bungal Forest because I can make it up as I go along and no-one else knows when I have made a mistake 😉
Tracey 
I am completely undecided and loved the Otways, Yarra Trails and Mount Macedon. My best walk is anything which is a circuit, around 15-20km and ideally has water and a view. Plus a great group of people to do it with 🙂
Dan 
Mine is the Pyrite off track loop mainly because for a lot of it there is no track at all which I enjoy. It includes a great creek valley section and rarely do you see anybody. A perfect day walk.
Marianne
The Lorne waterfalls loop, with lots to see and do along the way such as canyons, waterfalls, and a great track to walk. Plus koala spotting keeps up the interest.
Sandy 
I love the Lorne waterfall walk, and added the Werribee short loop for its amazing variety in such a short loop.
Bayley 
My favorite is anything in the Dandenongs, possibly because my house has backed onto it my whole life and there is nowhere else in Melbourne you can get such wonderful views and make your route as easy or challenging as you like.
Tracie 
Of the ones I have done so far, the Cathedral North wins because I love a bit of technical walking. Ia also have a great love/hate relationship with the Glasgow Scar track in the Dandenongs
Cheryl
One of my favorite day hikes is the Darby River to Tongue Point walk at Wilsons Prom, plus of course the short side trip down to the simply stunning Fairy Cove for a quick dip.
Nat 
All the Yarra trails – the dirt ones not the bitumen ones. These are just the best selection of beautiful twisty little trails just a few kilometers from our city, wow!
So what do we consider our best day hikes! 
Otway Ferns & Falls – the best combination of trails and scenery.
Cathedrals North / South – the best technical walking. 
Werribee Gorge – a clear short distance firecracker.
Mount Macedon – longer and perfect all year round
Dandenongs – the only place we have grades two all the way to five – cardio at every level!.
We could keep going because any walk that wouldn't make our list we have either scrubbed or amended to make it better.
Do you agree with our list of best day hikes, and what is yours and why?