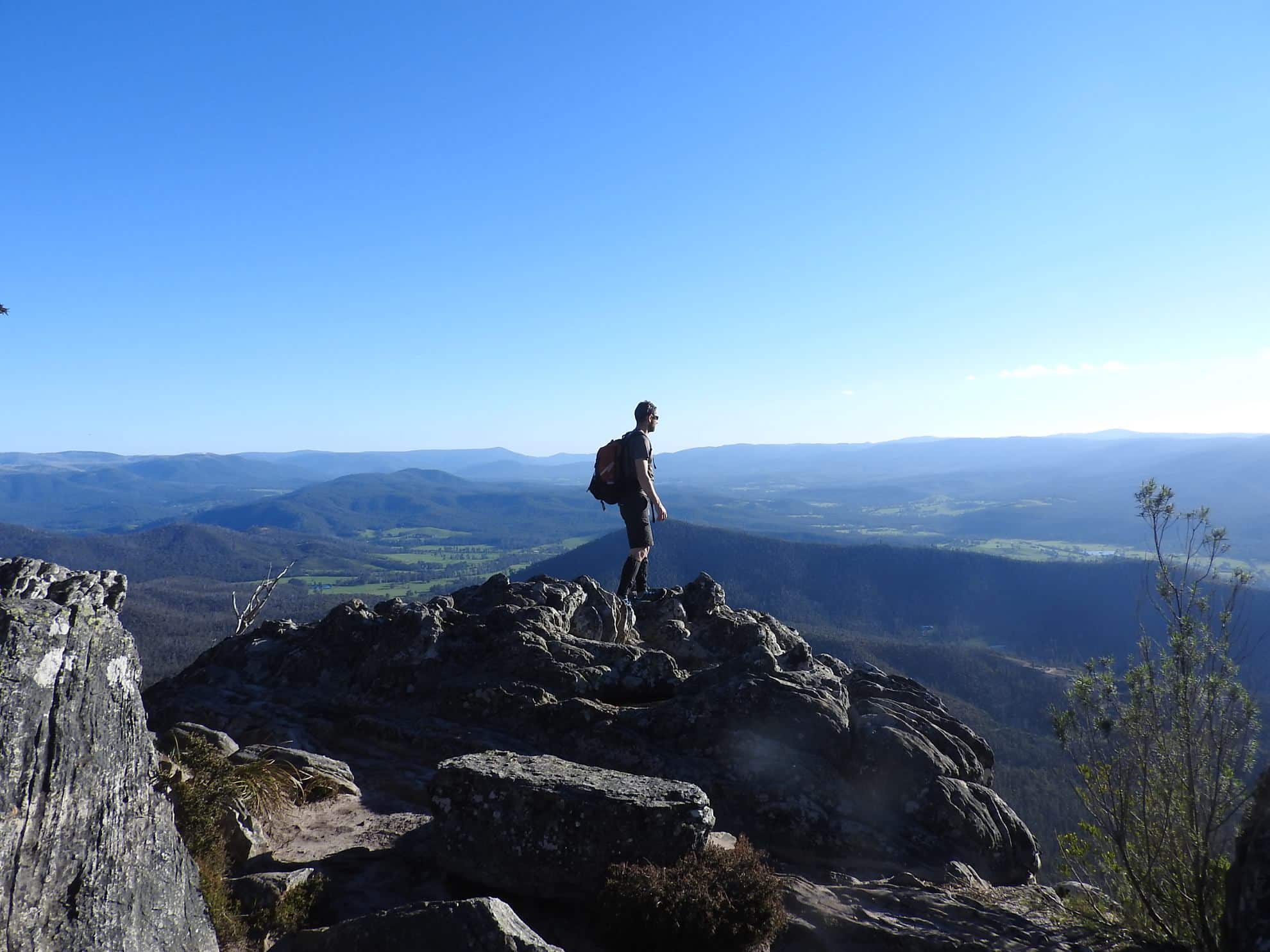 Overview
A challenging hike; scrambling up, down and across the Cathedral Ranges North section.  This route is not for the faint hearted and has some scrambling sections but don't worry, our guides are here to support you.
Starting from Cooks Mill, this easy trail wanders downstream adjacent to the river has an enchanted forest feel to it. After a few kilometres we take a sharp left turn, things rapidly change as we start the steep ascent towards Cathedral peak. The hike from now is exposed to the elements so be prepared for a hot climb during summer, or a wet and sometimes slippery winter trek. Experience the exhilaration of negotiating the rocky and windy trail along the razorback with spectacular views (it's hard not to get distracted). We end the hike walking along big rocky steps to take us back down to the start. If you're lucky, you may pass a small waterfall on the way back (usually during winter or the wet season).
This is a sensational walk along the challenging and rewarding razorback! You'll be feeling inspired and proud of your achievements as you make your way home for a well earned rest!
Upcoming Dates
No hassle, no stress
Itinerary, accommodation, food...TSA has it covered! Join us on this adventure without the stress of organisation so you can focus on getting the most out of your trip.
Expert guidance
Highly trained and experienced tour guides who bring the adventures to life. Our guides are remote first-aid trained and carry powerful UHF radios, PLBs, and first-aid kits.
Great community
Create long-lasting connections and friendships with like-minded people. Our community is one of the largest hiking communities in Australia and we're growing every year!
Hiking and scenery
Experience the best wildlife, scenery, and trails around the world. We take you on the paths less travelled to create unforgettable memories.
What's Included
Full catering, lunch and snacks including all dietary needs
Experienced & qualified guides
Scenery & wildlife
First Aid Support
Our wonderful TSA enthusiasm!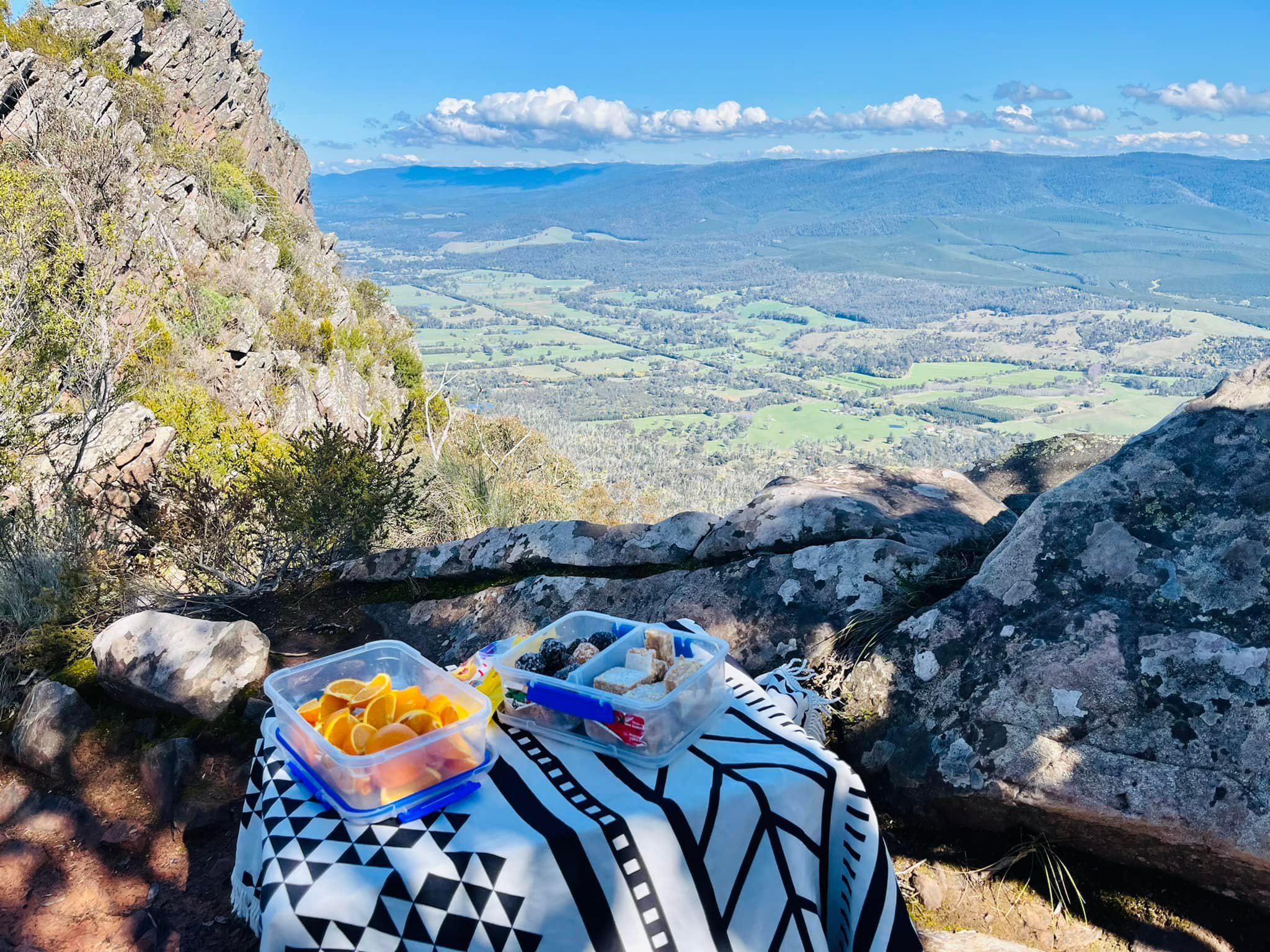 Food
We provide a hearty lunch to fuel your hike. We find a nice spot to set up, usually with a beautiful view, so you can sit back and take in all that hard work you put in! We have healthy salads and wraps bulked up with some proteins. Plus some intermittent snacks to keep your energy up throughout the day.
Where we're going
Cooks Mill Campground, Little River Road, Taggerty, Victoria 3714 Australia
What our adventurers have said
"What a wonderful and challenging day…thank you so much Bain and Bayley (guides). Fantastic group. And thank you for humouring me when I split my pants up the backside on the rocks. You guys were just awesome upbeat and professional guides… and kept everybody safe and happy all day. I absolutely loved it and very much look forward to seeing you guys again one-day" - Sharon Riley
BOOK NOW
Upcoming Dates
Cathedral Ranges North
Start: March 17, 2024 9:00 am
End: March 17, 2024 3:00 pm
Price: $96 $96
Members Price: $86
10 left
Book now
Cathedral Ranges North
Start: April 27, 2024 9:00 am
End: April 27, 2024 3:00 pm
Price: $96 $96
Members Price: $86
12 left
Book now
Cathedral Ranges North
Start: June 16, 2024 9:00 am
End: June 16, 2024 3:00 pm
Price: $96 $96
Members Price: $86
12 left
Book now