Diets don't work. We know that. Time to stop thinking of food and start living??
Join our Undo The Diet program. Free yourself from the diet trap. Stop binge eating, guilt feelings and self loathing. Learn the principles of eating intuitively and mindfully, and to create simple healthy habits that will leave you feeling more motivated, in control and have more energy.  
And The Best Part…
 It's all Online this ISN'T a DIET or Any Other "Quick Fix" Gimmick.
How much time do you spend worrying about your weight? Are you consumed by thoughts of food and eating? Are you unable to find the motivation to exercise or the energy to fit it all into your busy life?  Then STOP.  Life is too short to let the scales or another 'diet' control your life. NOW is the time to set yourself free from the very same culture that has led you to being anxious, food controlled and feeling more disheartened. We will deep dive into the principles of intuitive eating and discuss and look at practical habits and tools to make intuitive eating part of your life. Set yourself free with our Undo The Diet Program, and start living a life of confidence, adventure and self discovery. We will deep dive into intuitive eating, learn what it is and how to eat intuitively.
We will discuss the ways we feel shame around the food that we eat
We will learn from each other how to create habits and practical tips that keep us connected.
We will work though the guilt, judgment and self loathing, and learn how to connect with what gives us meaning and motivation
You'll accomplish all of  this over weekly challenges, exercises and interactive group meetings during our Undo the Diet Culture program 
Why diets and prescriptive food plans make us fat.
Deep dive into intuitive eating and why putting labels on our food choices creates shame!
Learn how to tell when you are hungry, and when you are full
You will learn simple habits to help you stay motivated and not feel deprived. We will teach you how to save time and effort, leaving more time for you!
Choosing health over the scales when making food choices.
 Our nutritionist and chef will take you through mindful eating concepts to help deal with cravings and inspire you to plan your own food  and recipes.
Simple habits to make your food look and smell great which will help you feel well nourished. Learn self love to stop overeating and understand portion size.
Stop using exercise as a punishment for what you have eaten, and learn how to move your body joyfully. 
Learn how to stop numbing your emotions with food, exercise and work
Find meaning in who you are and stop making judgements on what is good and bad about your current body shape.
We'll discuss the #1 factor that prevents people from creating long term habit changes.  
You will plan for success!
Setting goals that make you accountable, and be ok with failing so you can re learn and try again!  
We will help you improve your mindset, and teach you to give gratitude for your achievements. Let's make sure everyday behaviors are rewarded to help you live your BEST LIFE.
Here's What People Are Saying About Their 28 Day Undo the Diet Program
I've done a number of nutrition and motivation programs with Take Shape and I now have a happier healthier life. I am motivated to achieve my fitness goals and now enjoy exercising, and getting outside. I eat when I am hungry, and have learnt to leave food on my plate when I am full. I loved the practical ideas and suggestions made in the wonderful support group. I'd definitely do it again. Another great thing for me was sharing recipes to get some inspiration
Undo the Diet Program is a 100% online program so you can join us from ANYWHERE in the world, Our online meet up on Tuesday night at 6pm EST.
Once you sign up, you will need to do/know: 
Buy or borrow a copy of an intuitive eating book, we will send you an email with some recommendations.

We will deep dive into the principles of intuitive eating, and how to incorporate it into your everyday life. We want to get you on the right track without making you feel overwhelmed.

4 x (weekly)

Tuesday night workshops. 

Focus group online meetings where we will go through questions, learn new habits and look at practical ways to help incorporate health and intuitive eating into our lives! 
Day hike

so you can meet each other, connect and get out into nature and live the principles of intuitive eating, getting outdoors and living your best life! (You will get a code, to use against any of our day hikes,3 months to use)

i
Coaching Support

to help you succeed with each action and overcome any challenges along the way. This includes a forum where you can ask questions, and chat to your Nutritionist/PT/Coach. 
PLUS…You Get This Bonus:
     

Healthy Eating On the Go Guide

. Recipes to help you keep nourished in between meals when you are on the go  



You Will Learn Easy-to-Implement Strategies So You Can…
Stop the binge eating diet cycle 

Eat when you are hungry, learn to stop eating when you are full

Stop the numbing your emotions  with food, exercise, alcohol and work and find meaning instead

Be confident that you're eating in a way that makes you feel great 

Learn to stop using exercise as a punishment for what you have eaten 

Feel more energetic (and avoid afternoon slumps)

Change behaviors and set and keep realistic goals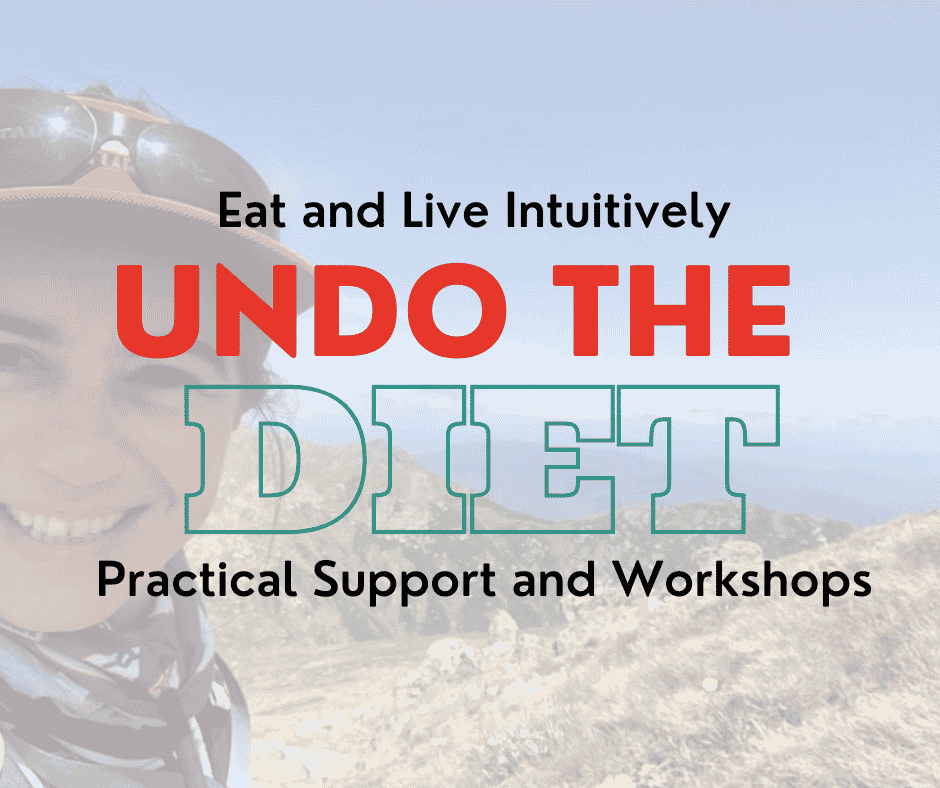 Join Today With No Risk! 100% Money-Back Guarantee.
Our 28 Day Undo the Diet program gives you realistic steps to help you be fit & healthy for the long haul. I'm confident that you'll love your time in the program, the results you get, and the lessons you learn. But, if for some reason the program isn't a good fit for you, let us know within 7 days and we'll give your money back. We wouldn't dream of keeping your hard-earned money for a program that you don't love. No hassles and no hard feelings.
Claim Your Spot Today to Take the Next Step Towards Being Fit and Healthy for Life!
Stop feeling like you are a failure or that you just need to lose the last few kilos to be happier. You don't have to continue being afraid that you'll need to keep dieting for the rest of your life. Stop binge eating, and worrying about food choices and choose health over the scales Create self worth, get outside, cultivate joy and make connections; all the things that will help you lead a happier healthier life for longer
Disclaimer: The information shared during this program is for general purposes only. The information is not intended to treat, cure or prevent any disease or medical conditions. I am a Masters Level Licensed Nutritionist, Qualified Rehabilitation Specialist and Personal Trainer. If you are unsure of the advice please determine what course of action is best for you and your particular needs. Participation in this challenge does not constitute a coach-client relationship.