We all know about the amazing adventures run by TSA and how they've inspired many to get off the couch and start living life outside their comfort zone. However, many of our adventurers are already well acquainted with adventure and hiking, instead finding the benefits of group hiking, community, and the ease of having someone else organise your adventure. We're all blown away by the story of our community member Dougall's hike in Tasmania, so keep reading to find out for yourself!
In 1978, a mate, Jimmy, and I took an Ansett Focker Friendship flight to Tasmania. We slept in Hobart and were scheduled to catch a light-plane flight from Cambridge Airport to Cox Bight the next day. The plane was a small 4-seater – 3 passengers, luggage and a pilot.  
Grim weather greeted us the next morning but we took off and headed for Cox Bight. It was a complete waste of time however as inclement weather prevented a beach landing and it was back to Hobart to try again the next day. 
The next day's effort saw us landing at Cox Bight.  It is a beautiful sandy beach, overlooked by spectacular rock formations and mountains watching from the background. Surrounded by beauty we headed inland to Melaleuca, where tin mining was still operating. This area is remote with a capital R. A coastal freighter was the only contact as it delivered food and supplies and back-loaded ore and anyone who needed to go.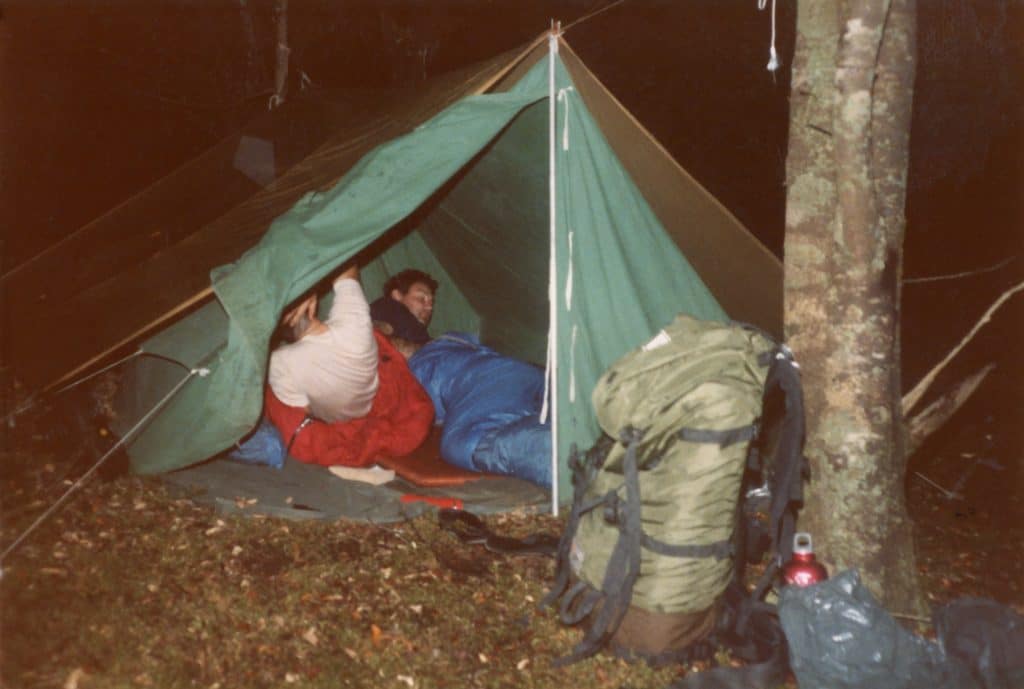 We camped at various spots on the way to the South West Cape of Tasmania. It rained constantly which meant mud, leeches, and poor sleeping, with all 3 of us squeezed into the old green canvas scout tent. In addition, there was no GPS and no phones, but we had a compass and a map that showed a lack of information so luckily the coastline was a reliable navigator.  
We backtracked to Melaleuca and took a boat trip to Bathurst Harbour. We crossed the harbour in a small dinghy that operated via a rope secured to the other side. You simply pulled the rope which pulled you across and, after a look around, it was back in the dinghy and pull the rope to get back to the other. The Harbour is almost landlocked within the southwest corner of Tasmania. It is surrounded by low landscape with mountain ranges running along the western and eastern shores. Several rivers drain into the harbour. Looking around was good fun.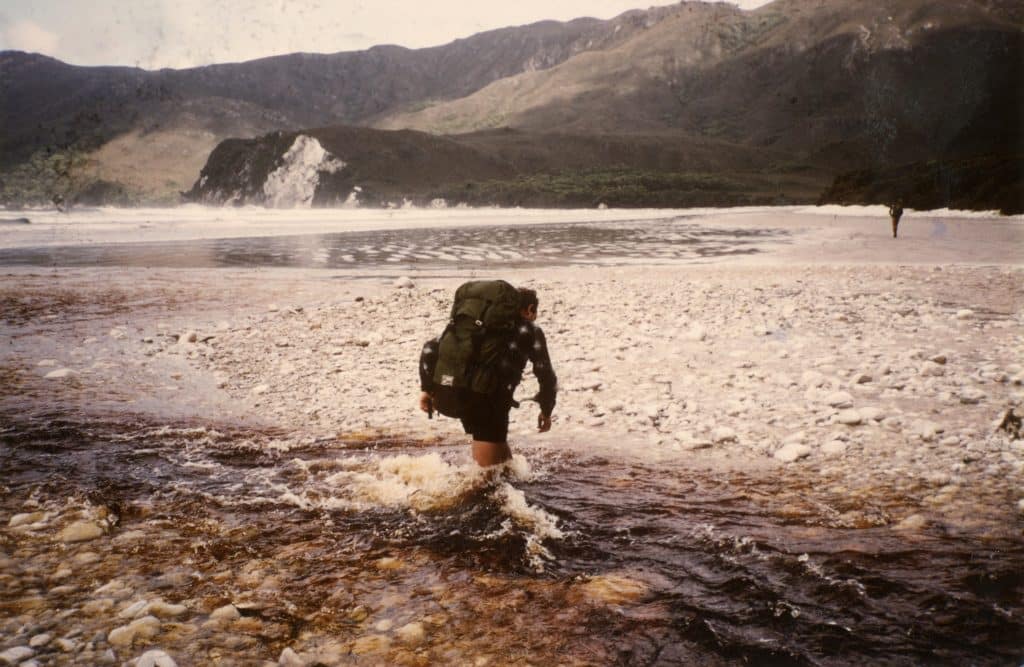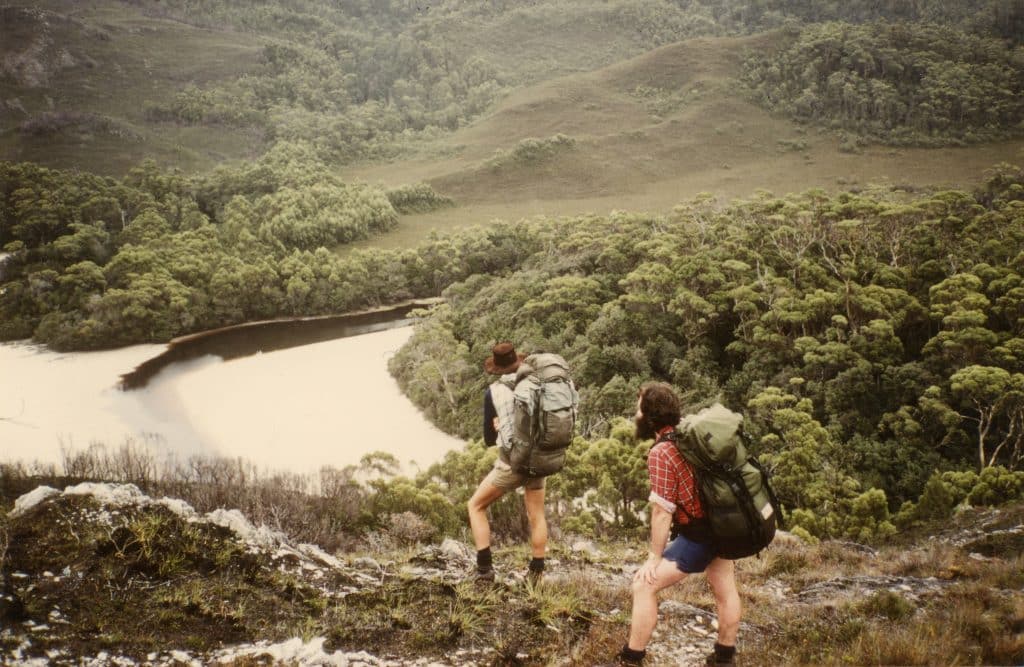 Our adventure began as we headed out from Melaleuca on our grand expedition. Our early version Bergen backpacks were made of an advanced canvas construction with 2 aluminium strips, designed to be moulded to your back. Our packs were full, in excess of 20 kilos, as we carried everything needed for our 10-day trek. Contributing to the weight were the green water bottles made from aluminium and our own fuel in red canisters for cooking and heating. Our only food was the original freeze-dried variety.
As we started along the track there was tannin-stained surface water everywhere so I began jumping from tussock to tussock. Certainly, dryer but a lot of effort and after around 2 minutes I reconsidered and walked in the water. I had wet feet for 10 days.
For the 10 days, the only sign of life we saw were 2 cray-fishing boats anchored in one of the numerous harbours.  We waved but no one was looking.
If it wasn't raining, we often got pretty hot as we hiked.  At one point, when we descended to the beach, it was off with my gear and into the water laughing. I should have kept my mouth closed because the waves washed my false teeth out, never to be seen again.  A few weeks later I did receive a package from someone on the next lot out.  It contained a jaw-bone and some teeth along with a note asking if they were mine.
The weather was good as we returned to Cox Bight to wait for our return flight to Hobart. It had been a great hike.
So there you have it! What an inspiring story from seasoned adventurer Dougall. It's always so exciting to hear about what adventures our community have gotten up to either before or alongside their time with TSA.
Have you got an adventure story of your own? Feel free to send it to us via email at hello@takeshapeadventures.com.au (along with some photos if you have any!) and maybe you'll see yourself featured in a blog or on our socials so you can inspire the rest of our community.