We believe that food is important, not just because it provides you with the energy and sustenance you need to get out and enjoy the Great Outdoors but also because it provides a social connection. There's something special about enjoying a meal with friends and we think that is a crucial part off building memories and experiences when you are exploring a new area or heading off by yourself to meet new friends as part of your next big thing. Our goal is to provide you with these opportunities and ensure that all of our clients nutritional and dietary needs to the best of our ability.
At Take Shape Adventures we cater for all of your meals from your short hikes through to some of our major Adventure Tours this page will provide you with information and details about the food we provide and how we manage it on the trail.
All our food is backed by our very own nutritionist and managing director Tracey Wright, who is a masters level nutritionist and has spent many years assisting people both on and off the trail to achieve lifestyle and health goals.  Our guides have food handling certificates and we do our best to safely plan, prepare and manage food for you throughout all of the event types and destinations that we travel to.
The food we prepare is wholesome, nutritional and we endeavor to cater for all dietary intolerances. We also prepare food as a communal eating with lovely healthy salad dishes, wraps and a selection of other food & snacks to ensure that your event is well catered. 
Please note some of the limitations we have for food and menu selections:
some of our locations are very remote and have limited access to alternative products 

on our overnight hikes we have to carry food and this may limit some choices

in hot and cold climates some food may be restricted

we may not be able to cook numerous specific meals on overnight hikes

some dietary preferences require opposite food types which makes menu selection difficult
Some do's and don'ts:
Do tell us if you have an intolerance or allergy to food

Do tell us if you have any other special conditions that require a certain food type or menu

Don't say you are gluten free if you are not as we prepare special meals for you

Don't bring lots of your own food especially on overnight hikes as you have to carry it

Don't bring extra drinks such as fruit juice on overnight hikes as you have to carry it
Have a browse through a selection of real world images from our tours, overnight hikes and day walks to get a feel for how we prepare and serve meals for you. If you are after five star, then sitting on the ground eating food under your eating with you.
On our short hikes you can expect to receive a morning snack which may include some fruit, biscuits and some lollies to keep your energy levels up for the morning.  We can cater for most dietary requirements on these hikes and will provide gluten, dairy and fructose (etc) free options if required.  Generally there is no water available along the trail on our short hikes so bring your own drink bottle or bladder with 1-2 litres depending on the weather.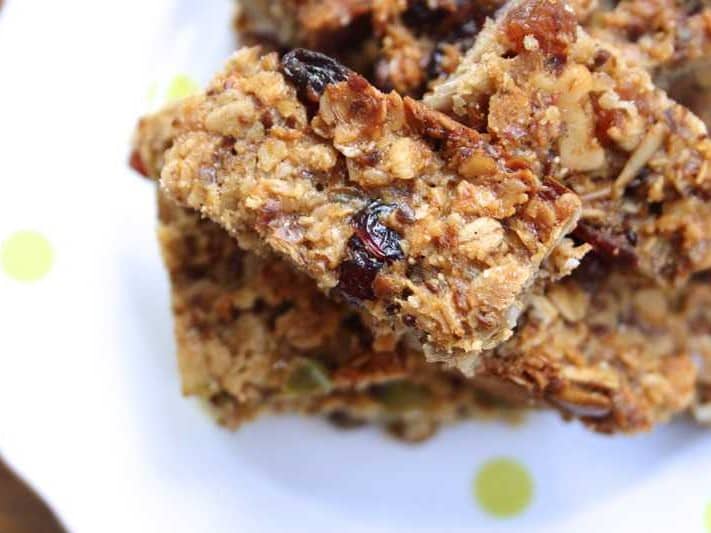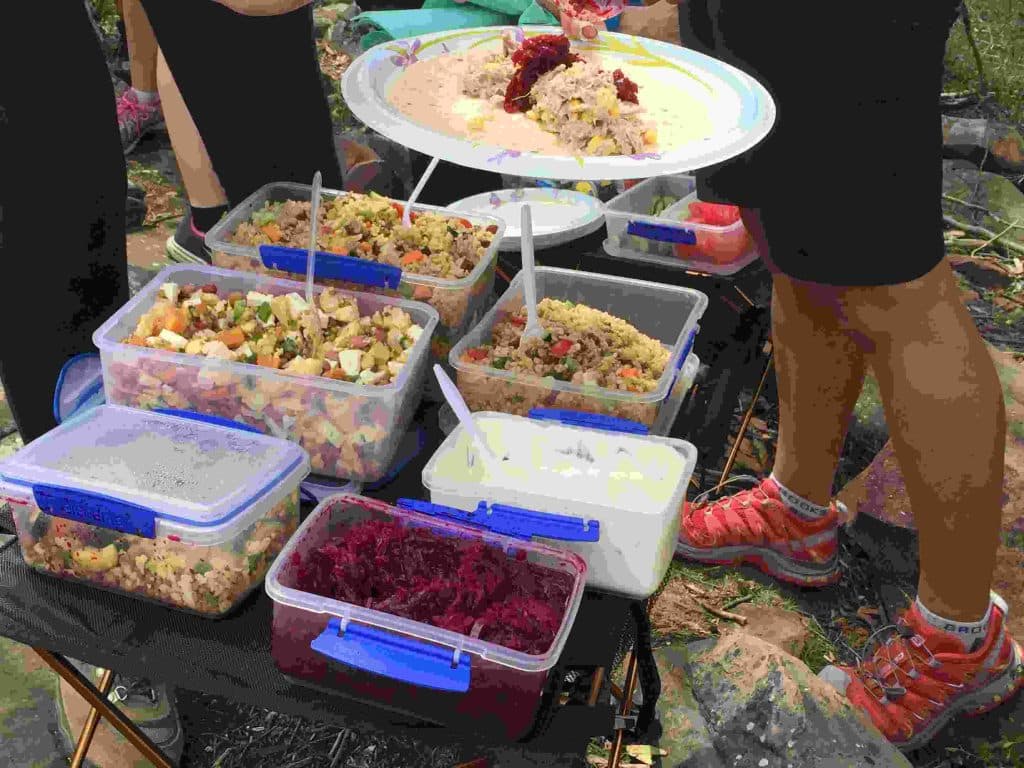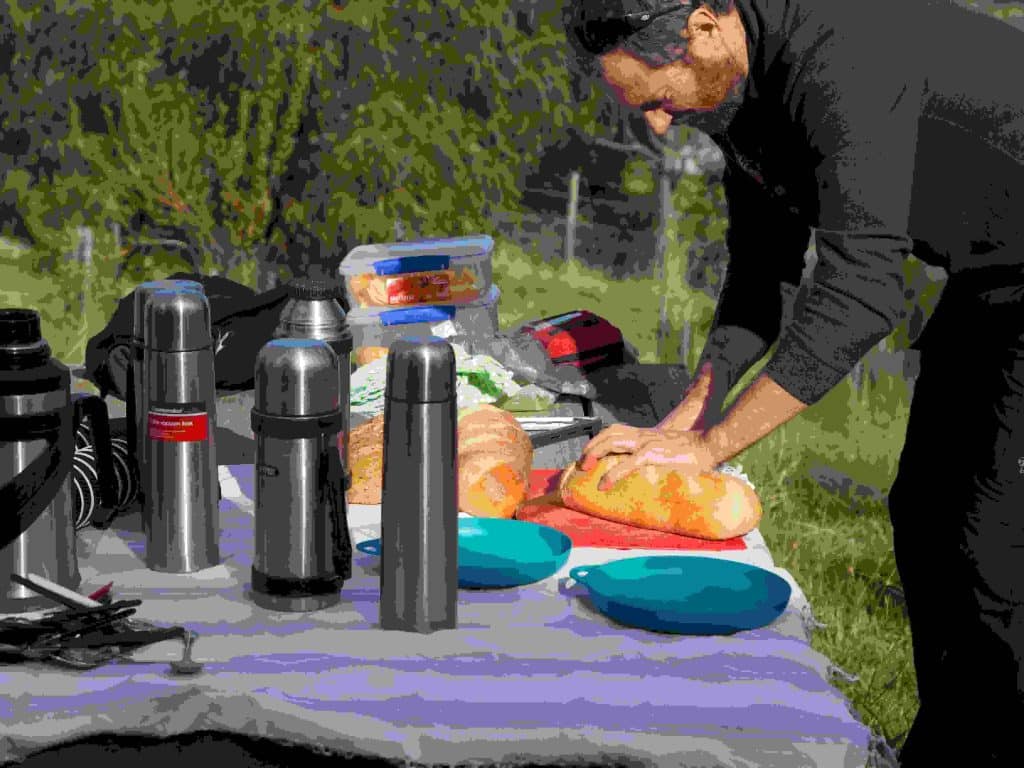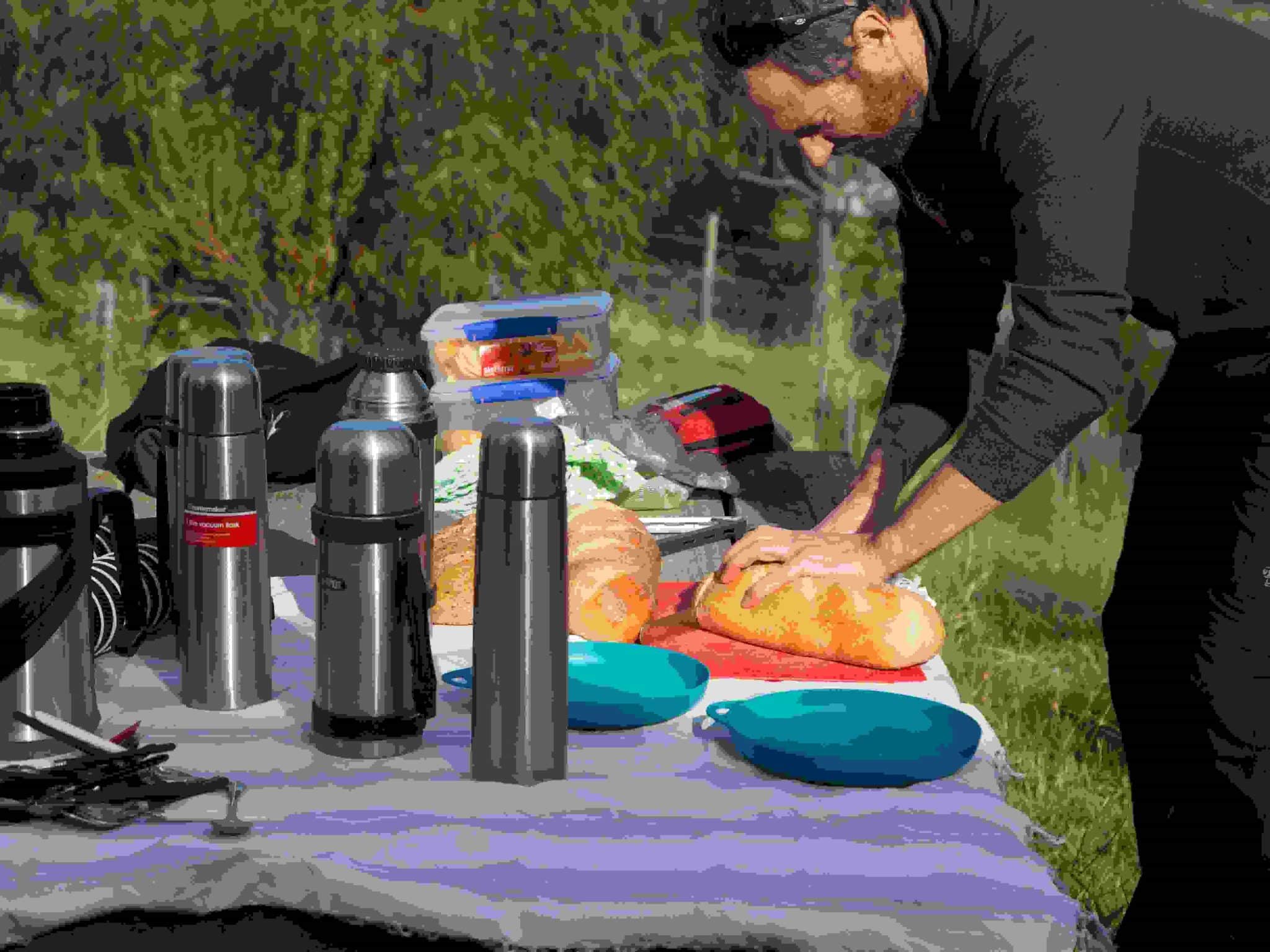 Our day events include morning and afternoon snacks, a full lunch and some nibbles along the way. All our food is healthy and nutritious and you won't be hungry. We may provide a range of food including wraps, delicious homemade salads, yummy soups, crusty bread, dips and cheese, oranges, tuna, dips and hummus, homemade cookies, slices, cakes, protein balls and of course our famous Lemon Slice! Our awesome guides will carry all of the food for your day hikes and present this as a great picnic for you to enjoy in the rain, hail or shine.
Water is available for most of our day hikes but it is best if you assume there is nowhere to refill, so bring 1-3 litres in drink bottles or a bladder depending on your personal consumption and the expected weather on the day. On very hot days we suggest freezing a spare bottle and leaving it in your car so you have some nice cool water when you finish the walk.
We provide all dinners, lunches, breakfasts, morning and afternoon snacks for all of our overnight hikes. For all of our overnight hikes, our staff, and you –  will carry all of the food for the weekend.  but you need to ensure there is space in your rucksack to fit 1 to 2 kilograms of food for the weekend.  our menu for overnight hikes is second-to-none and you will be delighted is it delicious food that is on offer for breakfast lunch dinner and of course a yummy dessert. our food is not your average hike food and is not 2-minute noodles but a selection of home-made, nutritious cuisine.
Our guides will carry all of the cooking equipment and prepare your food for you on our portable gas cookers. However because we are limited with the amount of food and the types of menus we can prepare please note that not all dietary requirements can be catered for on overnight hikes. 
Below is a sample menu of some of the food  you may expect on an overnight hike: 
Breakfast – Muesli and powdered milk, dried fruit
Lunch – fresh homemade salads, Wraps with tuna, cucumber, cheese, snow peas, hommus, wraps/ crackers/ biscuits with salami, cheese, olives, sundried, etc  
Dinner – spicy beans and couscous, Pasta with sun dried tomatoes, mushrooms, olives, garlic, broad beans etc, pulled pork or vegetarian curry with couscous / steamed rice 
Dessert – chocolate, Powdered custard 
Snacks – fruit, anzac cookies, muesli bars, lollies, chocolate cookies, mixed nut trail mix, lollies
Be prepared to carry enough water for the day which may be up to 3-4 litres for some walks. Water supply for overnight hikes is from either a natural source such as a spring, creek or river and may or may not be plentiful depending on recent conditions. Some hikes will be supplied from a water tank and we generally aim to have a backup water plan if tanks or creeks are expected to be dry. We  will inform you of any water issues prior to the trip. Our guides always carry Katadyn Water Purifiers for all trips so you can be assured of potable level drinking water.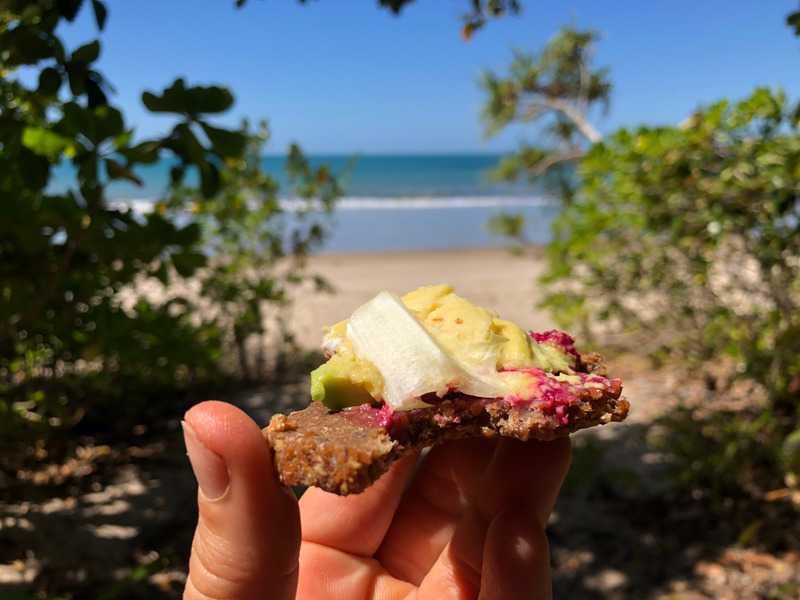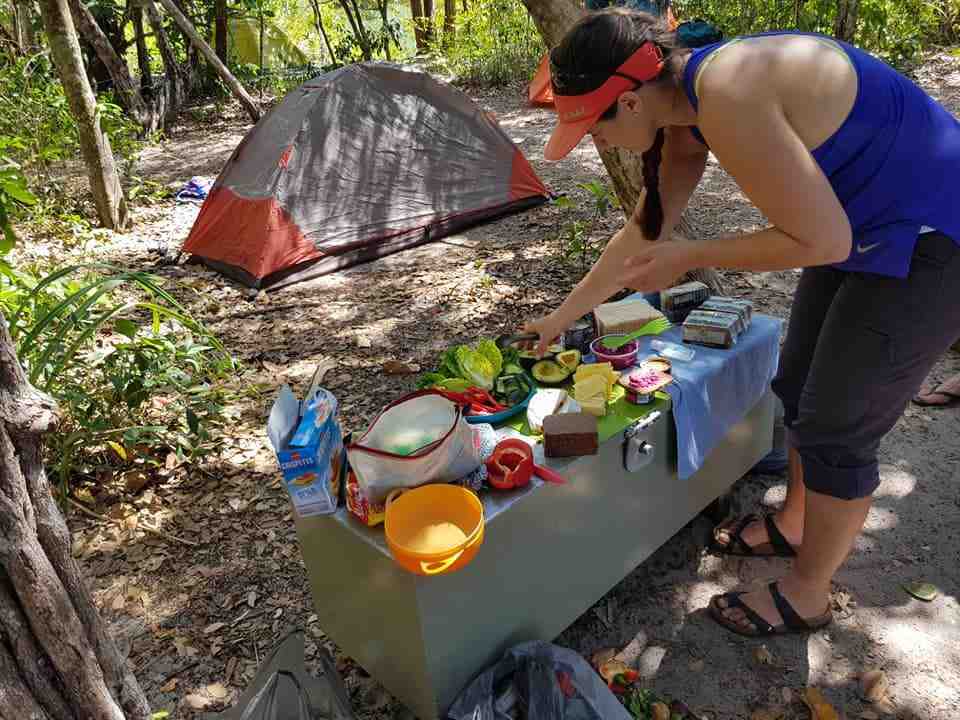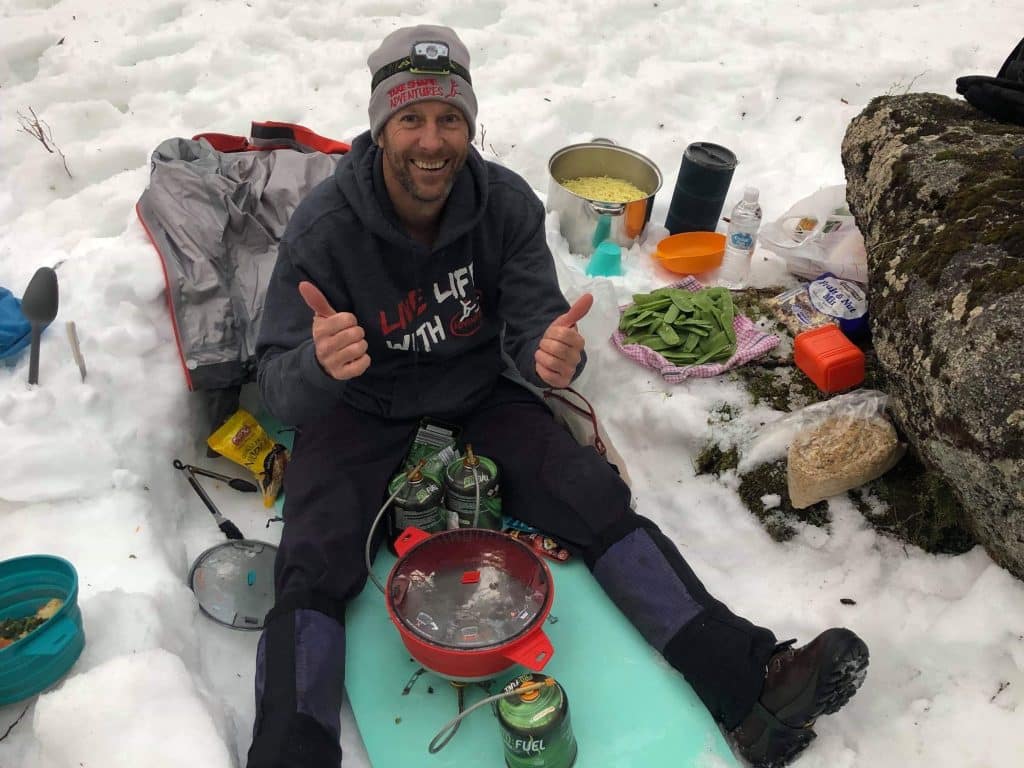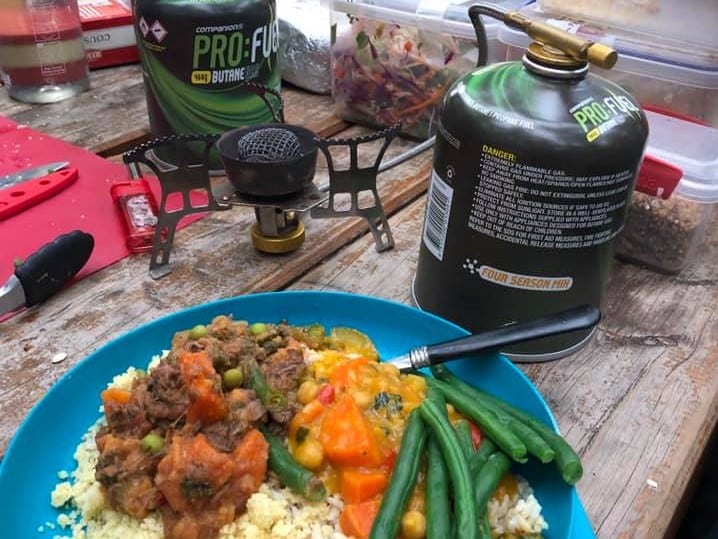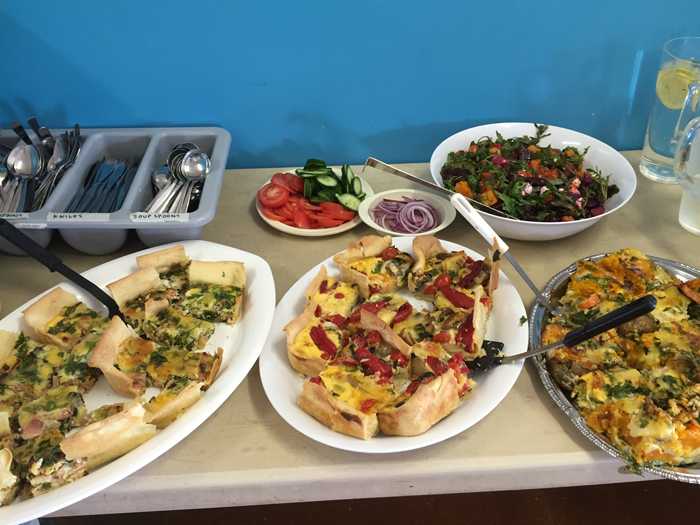 Food is a super important part of a great weekend away and we'll make sure you have a wonderful selection of food and a lovely menu for your weekend escape or micro tours. Please remember that some of our tours – such as the Flinders Ranges have no opportunity to shop once we leave the main city so all the food we take is what we have!
We''ll do our best on these tours to ensure you have sufficient food of high standard but sometimes things just don't work out – like the one trip where we had to choose different accommodation and then found out that it didn't have an oven! Whoops!
A few of our tours including the Warrumbungles, Larapinta, and Whitsundays are catered for by our local partner company, and we have worked with them to try and ensure the standard of meals is what you would expect from our service level.   
There is always an available supply of potable drinking water at our accommodation so so you can top up each day. Please ensure you have drink bottles or bladders to carry a sufficient amount of fluids for the weather and area that your tour is visiting. Example: if you are heading to the Flinders Ranges with us, then you may need to carry 2-4 litres per day.
International tours are where food is different.  Obviously the country that you are travelling to will have a major bearing on the type and selection of food that is available and very much be dependent on local traditions, food customs and Christine of that country.  take shape Adventures does not prepare or plan any of the meals international tours as this is the responsibility of our local partner company.  We do however try to ensure that dietary requirements are noted as part of a booking process and try to work with local operators that understand and may be able to cater for Western diets. 
 Some of the examples of food restrictions include
 a lack of gluten free options in Japan however there are lots of rice based dishes

 limitations with food alternatives on the Mount Kilimanjaro hike 
Here is an example from our Morocco tour:
Daily breakfast, lunch and dinner on most days is provided for guests.
Food will be prepared to high standards and most intolerances and dietary requirements can be catered for. Please contact us if you have any special circumstances. As always, we will do our very best to ensure you are catered for and here are some example foods from this trip – tagines and other Moroccan delicacies served in local restaurants & guest houses, a camp dinner in the Sahara Desert prepared by our caravan drivers, a dinner amongst the vibrant food stalls in the heart of Marrakech Medina.
We provide drinking water throughout the entire trip (not bottled water). At most places, water is either good quality or can be purchased separately. You may bring your own UV sterilizers or filtration system and on some tours including Kilimanjaro and Morocco, our guides will have Katadyn filters on the trip which you may use.