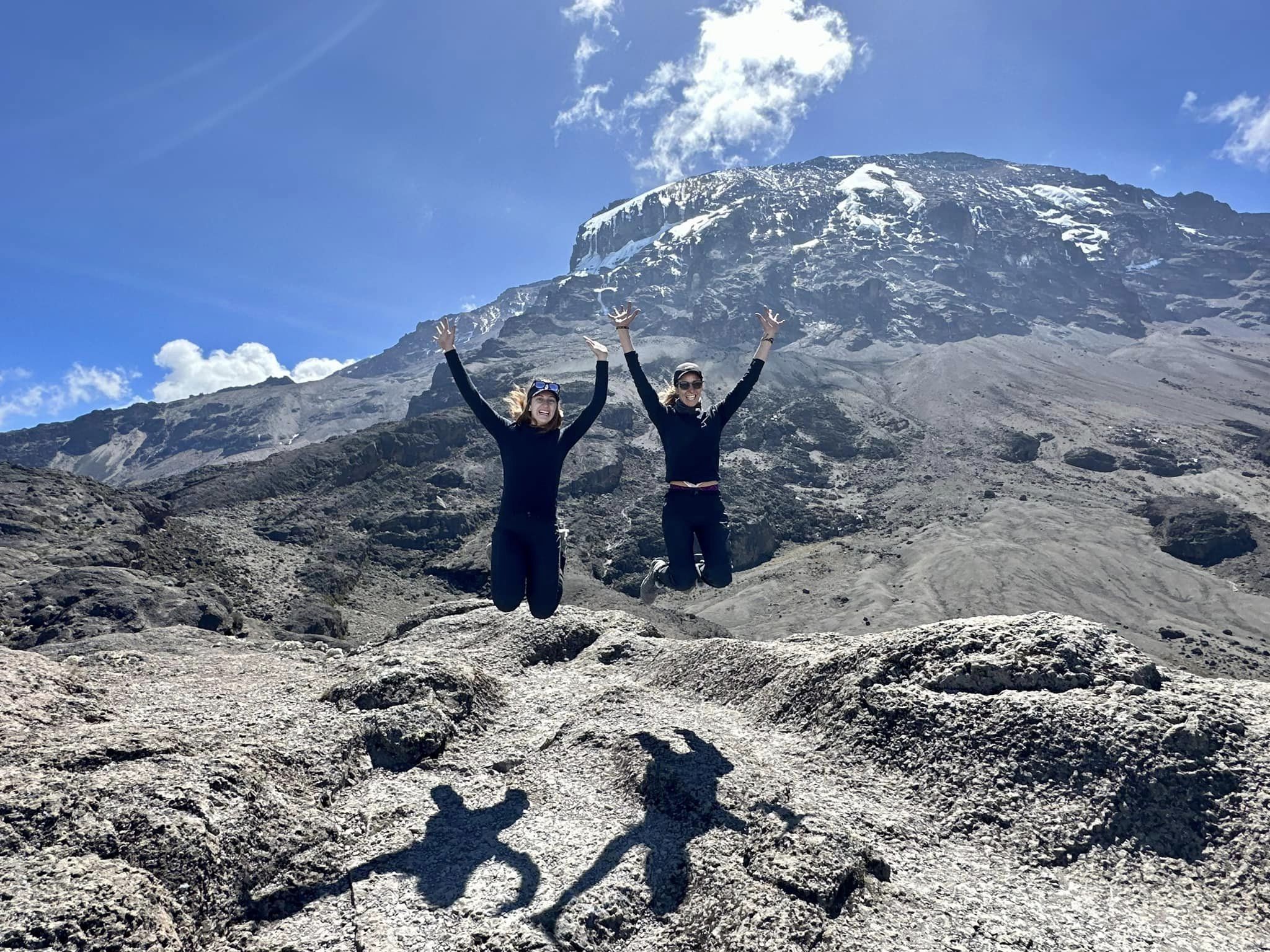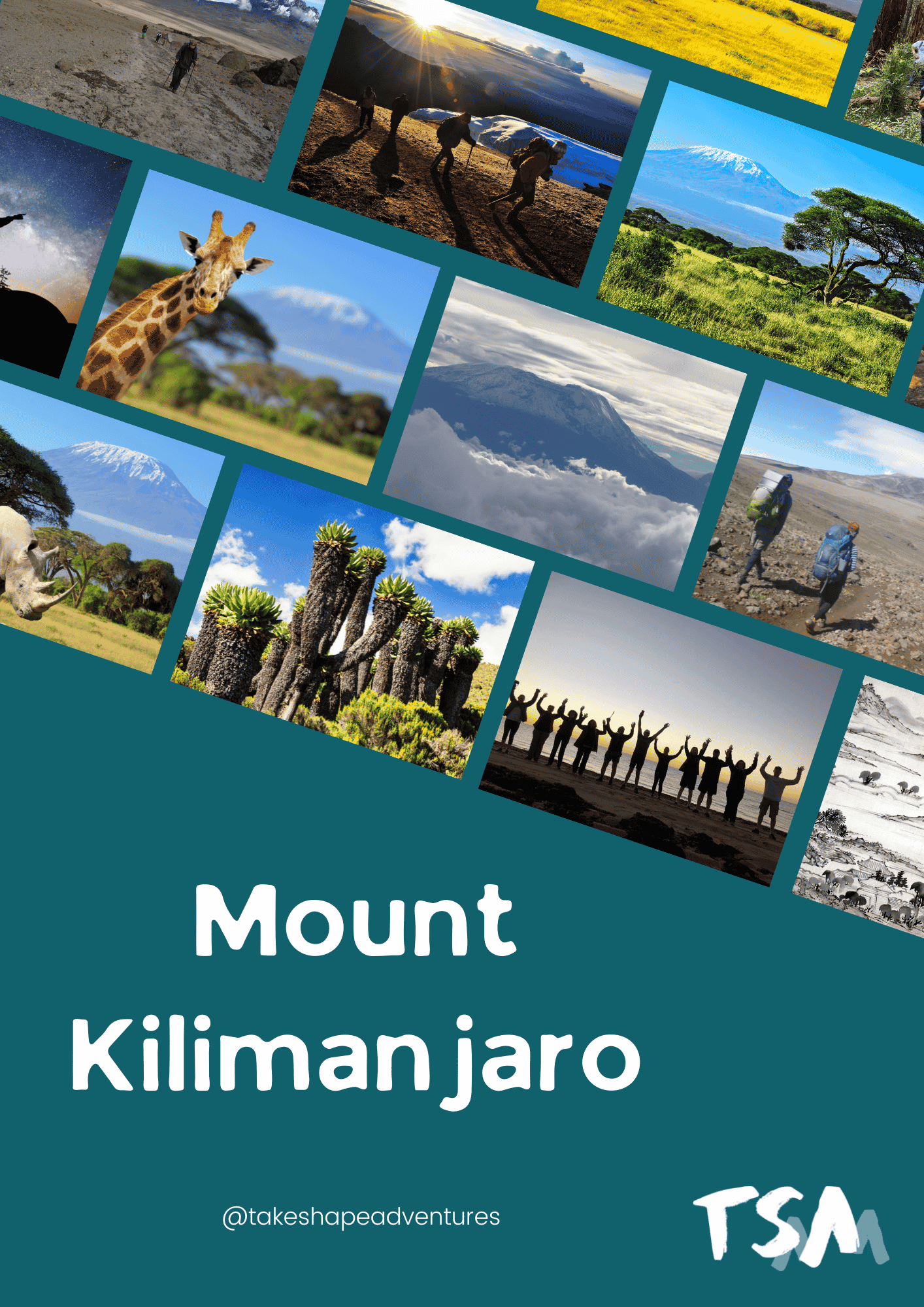 Download our Kilimanjaro brochure for all you need to know
Overview
We don't need to tell you this is a 'once in a lifetime' or 'bucket list' adventure! You know that! So why choose us? First of all, we have partnered with Eastland Adventures whose local knowledge and expertise means we can curate the ultimate trip for you. Secondly, this trip has a juicy add-on, a Safari tour following your Kilimanjaro summit (sounds pretty good so far). And thirdly, this isn't just any other trip, this is a JOURNEY and we want to share it with you. At the end, you'll be part of the TSA fam!
Kilimanjaro –  10 days / 9 nights
Our guides will take us along the Lemosho route. Widely regarded as the most dramatic and beautiful route up to Kilimanjaro. It is the most remote which traverses some of Kilimanjaro most striking and least travelled landscapes, including the base of Kibo Peak's and dramatic south-facing glaciers. This route has the added benefits of trekking across the Shira Plateau a World Heritage Site, trekking 180 degrees around the Kilimanjaro massif, and most importantly this route allows plenty of time to acclimatise to the high altitude.
Kilimanjaro And the (Optional extension Safari) – 14 days / 13 nights ($8990 members $8790)
We will spend 4 days exploring three different national parks Tarangire, Serengeti and Ngorongoro meeting an array of different animals in their natural habitat.
Trip options: 
Kilimanjaro and Safari – 14 days / 13 nights
Kilimanjaro only – 10 days / 9 nights
Upcoming Dates
No hassle, no stress
Itinerary, accommodation, food...TSA has it covered! Join us on this adventure without the stress of organisation so you can focus on getting the most out of your trip.
Expert guidance
Highly trained and experienced tour guides who bring the adventures to life. Our guides are remote first-aid trained and carry powerful UHF radios, PLBs, and first-aid kits.
Great community
Create long-lasting connections and friendships with like-minded people. Our community is one of the largest hiking communities in Australia and we're growing every year!
Hiking and scenery
Experience the best wildlife, scenery, and trails around the world. We take you on the paths less travelled to create unforgettable memories.
Tour Highlights
CLIMB KILIMANJARO – surely there's nothing more to say?!
7 days / 6 nights spent on this majestic mountain hiking through jungles, rocky escarpments and exposed plateaus with horizon vistas every day
Reaching the summit of the worlds free-standing mountain – 5,895m high (WOW)
See the incredible sights of Tanzania and spend the day in Moshi the capital of the region
Enjoy the company of local trail guides and customs
SAFARI! Add on a safari to Tarangire, Serengeti and Ngorongoro
Spot wildlife in their natural habitat
Learn more about different species from the safari leaders
What's Included
Three nights hotel accommodation in Moshi (four nights if choosing the Safari)
Three nights safari lodge accommodation (if choosing the Safari)
Six nights tent accommodation on Kilimanjaro
All meals and soft drinks at meal times
Professional English speaking mountain guides, services of porters and chef while on the mountain
All camping equipment and emergency oxygen cylinder
Pulse ox-meter and daily health check-up forms
Kilimanjaro rescue fee and Lemosho forest fee
All government taxes, park and camping fees
Ground transport between Moshi and Kilimanjaro
Airport transfers
And MOST IMPORTANTLY a private mobile toilet!
Day 1

Welcome!

Karibu! Welcome to Tanzania! Meet your guides at the Kilimanjaro International Airport before heading to Weru Weru river lodge for dinner and our first night.
Day 2

Briefing

Included:

Hotel

Breakfast
Lunch
Dinner

Not as exciting, but necessary for safety! You will meet your Kilimanjaro guide for a gear check and briefing about the mountain, including the group camping gear and an equipment demonstration, especially the emergency oxygen cylinder and pulse ox-meter.
Day 3

Kilimanjaro climb

Included:

Tent

Breakfast
Lunch
Dinner

We drive to Lemosho gate where we will complete registration and receive an entrance permit. We enjoy a tasty lunch at Kilimanjaro and then meet our Kilimanjaro crew. The first hike crosses through a rainforest to Mti Mkubwa Camp. On the way, you will see many beautiful flowers like the Impatiens Kilimanjari and, if you are lucky, you might see black and white Colobus monkeys and other forest wildlife.
Day 4

Kilimanjaro climb

Included:

Tent

Breakfast
Lunch
Dinner

Today includes one of the longest and most beautiful hikes. Before lunch, you will hike to Shira 1 camp. After lunch, you will cross the middle of Shira Plateau, through Moorland Zone, and arrive in the beautiful overnight camp located at the base of a massive lava flow.
Day 5

Kilimanjaro climb

Included:

Tent

Breakfast
Lunch
Dinner

Today, we continue crossing the Alpine desert. You will start by climbing over steep hills and very few rocks, then tackle a steady uphill climb to the lava tower before. From the lava tower, you will descend through dust and rock trail to have an overnight stay at Barranco Camp.
Day 6

Kilimanjaro climb

Included:

Tent

Breakfast
Lunch
Dinner

Today is a short day, starting with scrambling up the great Barranco wall for about. On this wall, some sections will be steep, so you'll need to use your hands to reach and manoeuvre yourself around rock boulders. At the top of the wall, you can see Barranco valley and the campsite where you spent the previous night. You will also walk up and down to Karanga Valley. This will be your campsite where you will have hot lunch and an overnight stay.
Day 7

Kilimanjaro climb

Included:

Tent

Breakfast
Lunch
Dinner

Today, you will walk across an upper Alpine desert on a steep uphill with many boulders and shattered rocks. You will go through a steep ridge until you reach a rocky section, which requires more scrambling. Your next camp will be on a large rocky area with steep faces. You will have an early dinner and sleep earlier because you will have to wake up in the middle of the night for the summit.
Day 8

Kilimanjaro summit

Included:

Tent

Breakfast
Lunch
Dinner

You will wake up at around 11:00pm to start your summit climb at midnight. It starts with a steep rocky section before crossing zigzag area. We head towards the crater rim and finally reach Stella Point at around 6am. At Stella Point, you will join other hikers heading to Uhuru Peak. You get to enjoy an unforgettable sunrise on your way to or at the summit. We begin our descent down via the same trail to Barafu Camp for rest and brunch, and then descend to Mweka Hut.
Day 9

Kilimanjaro descent

Included:

Hotel

Breakfast
Lunch
Dinner

After breakfast, you meet your Kilimanjaro crew for group pictures and Kilimanjaro songs. From there, you will start descending down via rainforest. If you're lucky you might see blue monkeys and black and white Colobus monkeys as well. At Mweka Gate, you will sign out in the Kilimanjaro National Park log book and the guide will collect certificates for those who managed a successful summit. We then drive to your hotel in Moshi for a very well deserved hot shower and Kilimanjaro beer.
Day 10

Safari Day 1: Tarangire National Park and Marera Valley

Included:

Hotel

Breakfast
Lunch
Dinner

You'll either transfer to the airport to head home, or continue on the safari! We drive to Tarangire National Park for a game drive until the afternoon, when we break for a picnic lunch. After lunch, we will continue with the game drive until the evening and drive to our lodge for dinner and an overnight stay at Marera Valley.
Day 11

Serengeti

Included:

Hotel

Breakfast
Lunch
Dinner

Today, you will head to Ngorongoro crater, often referred to as a wonder of the world. We enjoy another game drive, break for a picnic lunch, and then ascend from the crater and drive to Tanzania bush camps in the Serengeti for dinner and an overnight stay. This is the world's largest caldera full of grassland, forest, and swamp - truly a stunning setting. The permanent water crater floor supports a resident population of more than 25,000 large mammals.
Day 12

Serengeti

Included:

Hotel

Breakfast
Lunch
Dinner

Today, we start our game drive and stop for a picnic lunch in the afternoon. We continue with our game drive before heading back to our tented lodge for dinner and an overnight stay in Tanzania Bush camps. Serengeti is truly something special, showcasing the sights, sounds, and smells of Africa with stunning scenery, ever-changing light and entertaining wildlife. In this park, the animals don't work to any schedule so we may find a wide array of animals during our game drive.
Day 13

Serengeti - Moshi

Included:

Hotel

Breakfast
Lunch
Dinner

After breakfast, you will have half a day to explore the magical Serengeti until lunch time. From there, we have to sadly exit the park and drive for 5 hours to Moshi for dinner and our final overnight stay at Weru Weru river lodge.
Day 14

Farewell

Included:

Hotel

Breakfast

We will say farewell to our wonderful guides and drive you back to the Kilimanjaro International Airport to catch our flights.
Accommodation
Kilimanjaro: three nights accommodation in Weru weru River Lodge (two nights before the climb and one night after the climb). Six nights sleeping in tents on the mountain. Very comfortable mats and cosy sleeping bags, you'll be sure to sleep tight. Safari; three nights in lodge style accommodation and then back to Weru Weru River Lodge on our final night.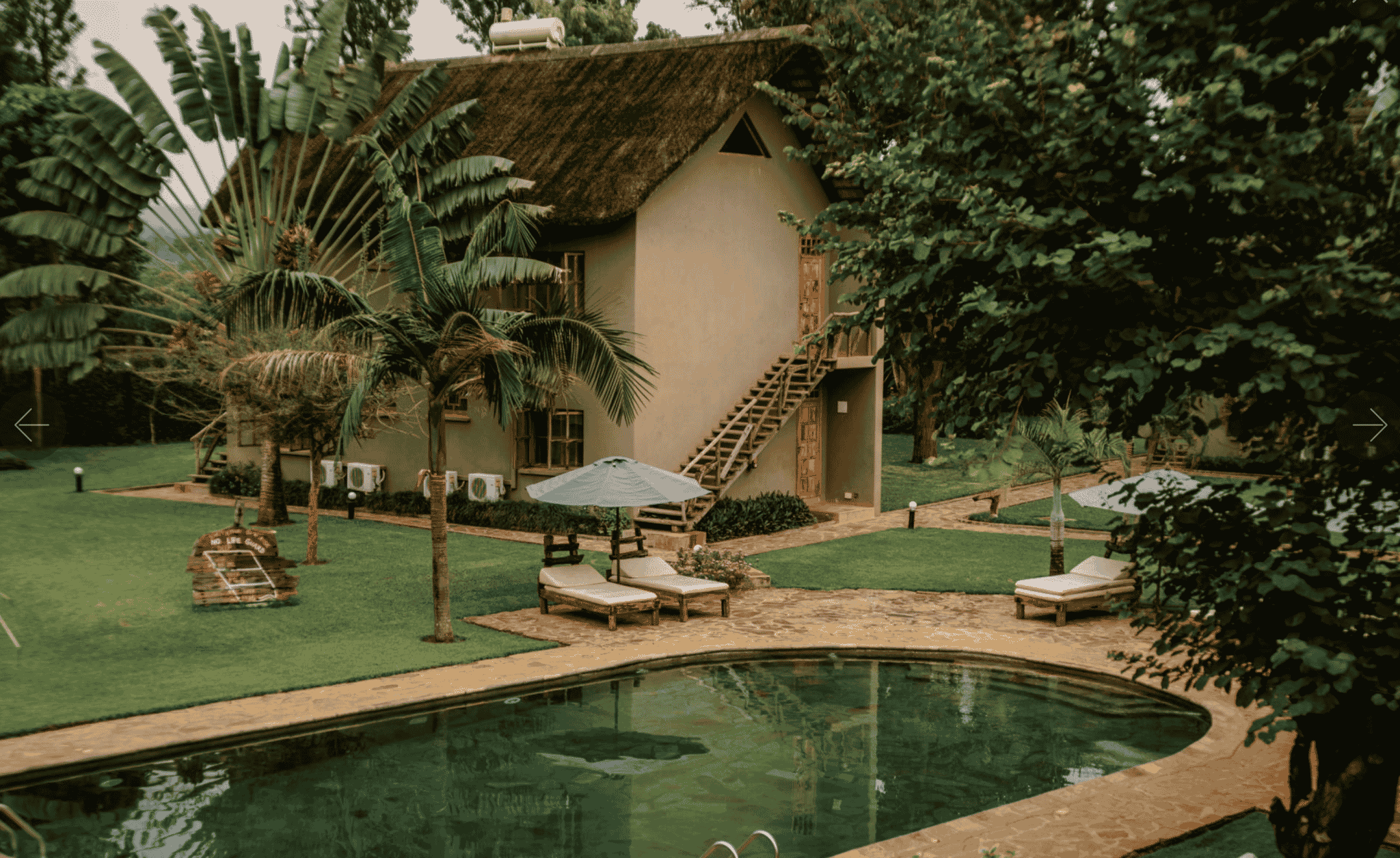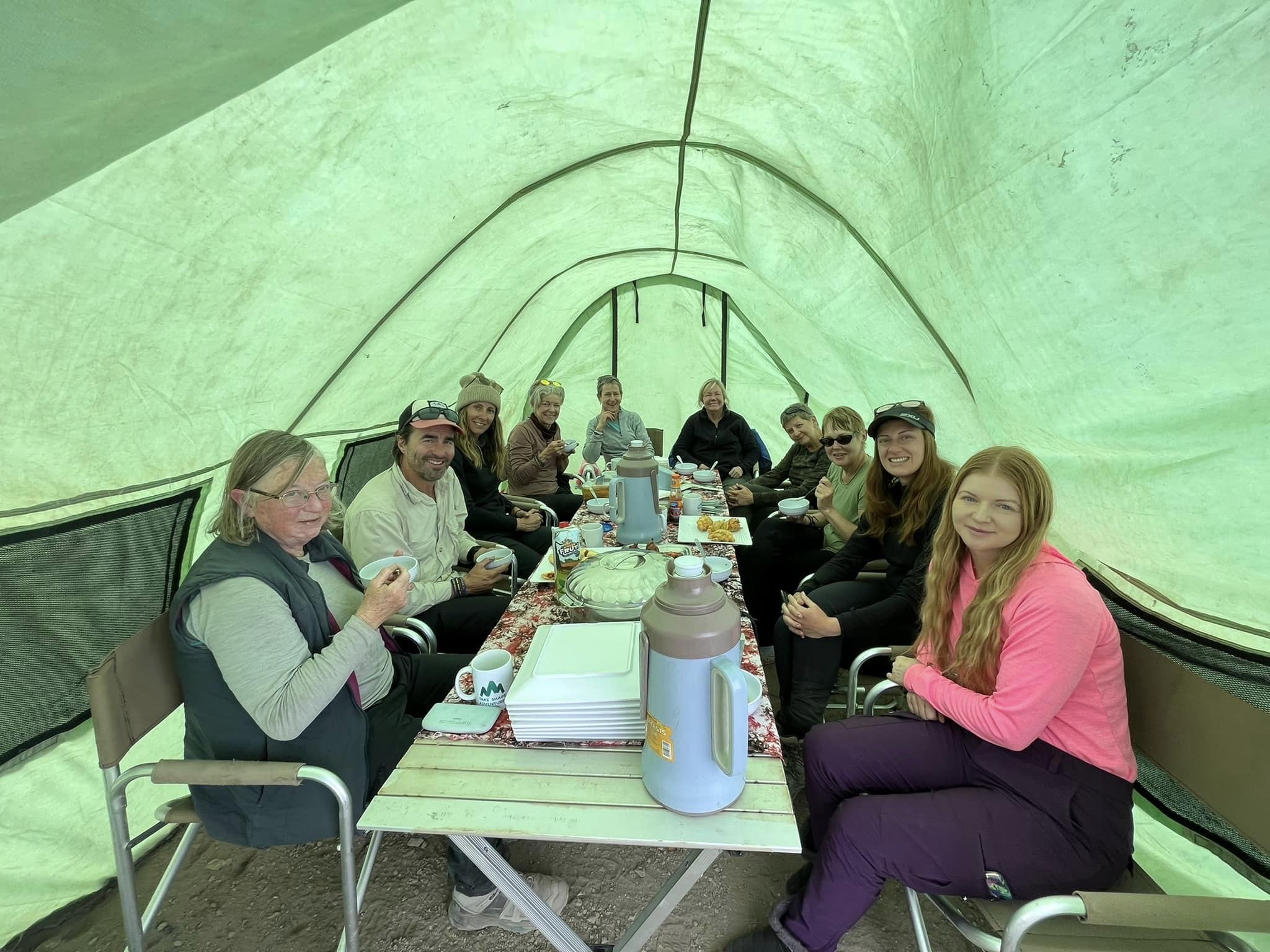 Food
All food is included in the trip, you are very well fed on the climb! The food is not only substantial but delicious and all dietaries can be catered for. Meals are cooked with the freshest seasonal yields. All fruits, vegetables, sea food, beef and chicken are purchased from the local markets in Moshi. You can expect a hearty breakfast, lunch and dinner each day of the climb. We do recommend that you bring some of your own snacks, such as lollies or energy bars, you might want your own stash of these!
Where we're going
Kilimanjaro
What our adventurers have said
Mt Kilimanjaro - an absolutely amazing natural wonder that reaches from the ground to spread its shadows across Tanzania .... and I was lucky enough to climb her. 5.5 days up, 1.5 days down - slowly, slowly or pole, pole (as the Tanzanians say), one step in front of the other we made it to each camp. Along the way, experiencing different facets of her climate - rainforest; plains; moonscape; and the ultimate pinnacle (the peak) and the mountain icebergs and crater.Each campsite was an achievement - and along the way, we laughed and chatted; and was astounded by the beauty, which silenced us in wonder.In typical TSA fashion, the Tanzanian guides, porters and staff could not have been more friendly or more helpful. Every night our tents awaited us, every meal was delicious, the guides were generous, funny and caring.This trip is certainly an epic adventure - and it's hard .... on the body and on the mind .... but the fun, the laughter, the tears (at the top) and the celebration of every day make it unimaginably one of the BEST things I've ever done. If you are thinking about it .... just do it! You won't regret it :) - Susan
BOOK NOW
Upcoming Dates
Kilimanjaro
Start: September 23, 2024 9:00 am
End: October 2, 2024 3:00 pm
Price: $5495
Members Price: $5295
7 left
Secure your spot with a non refundable deposit, and have the remainder payment be automatically split over additional payments. Proceed with booking to choose your payment option. See here for our payment plan details terms and conditions.