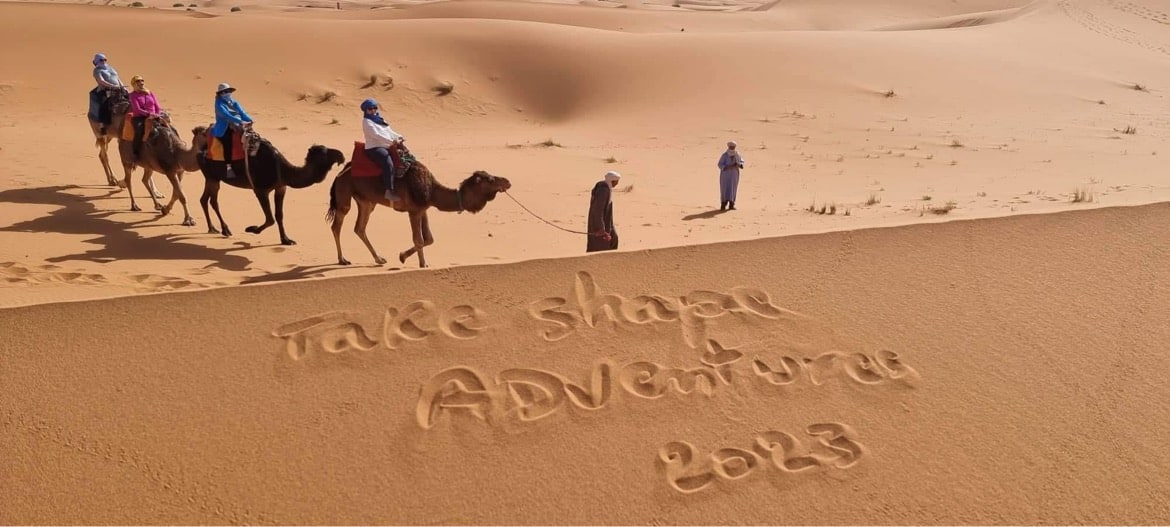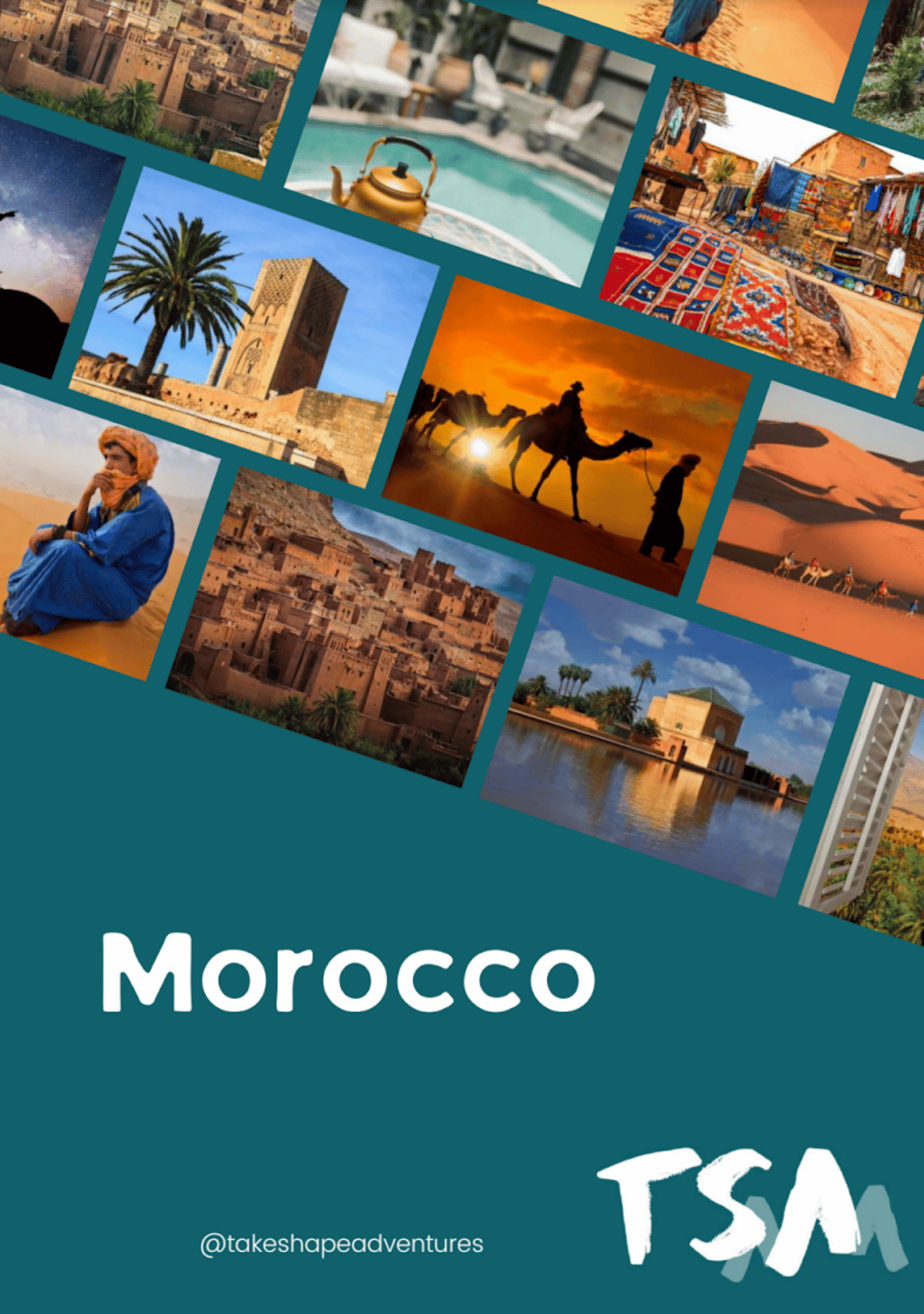 Download our Morocco brochure for all you need to know
Overview
OVERVIEW
Immerse yourself in the sights, smells and sounds of Morocco. This unique, tailor-made trip with a highly experienced local guide explores the vast and varied mysteries that Morocco is renowned for; rich culture and history, breathtaking architecture and landscapes, with authentic activities and a mouth-watering cuisine to explore! Our adventure starts in the medieval city of Marrakech, from there we traverse the snow capped Atlas Mountain peaks and valleys to the Sahara desert, before continuing onto the stunning art deco city of Casablanca.
From lush green forests, to the High Atlas Mountains onto the vast desert, casbahs and markets. Journey through time as we explore, hike, taste and experience ancient Morocco through to modern day Morocco. Experience and see how some traditions have stuck (especially on our journey through traditional villages) whereas some regions have advanced into the modern world. 
TWO MOROCCO TRIPS TO CHOOSE
Full Morocco – 12 nights / 13 days
Hike the famous Mt. Toubkel before exploring this beautiful country!
Active Morocco – 9 nights / 10 days
Skip the hike and dive straight into your Moroccan adventure!

OUR PARTNERS
TSA is proud to partner with our experienced local guide, Moha Ait Aamou, who runs a well established and highly reputable team of Moroccan guides and has vast experience in providing tours in Morocco for major global tourism companies. Our partnership brings together the best of TSA's support and skills in creating a tour that suits you, our community, and Moha's local knowledge and years of expertise in guiding tours in his home country.  
Upcoming Dates
No hassle, no stress
Itinerary, accommodation, food...TSA has it covered! Join us on this adventure without the stress of organisation so you can focus on getting the most out of your trip.
Expert guidance
Highly trained and experienced tour guides who bring the adventures to life. Our guides are remote first-aid trained and carry powerful UHF radios, PLBs, and first-aid kits.
Great community
Create long-lasting connections and friendships with like-minded people. Our community is one of the largest hiking communities in Australia and we're growing every year!
Hiking and scenery
Experience the best wildlife, scenery, and trails around the world. We take you on the paths less travelled to create unforgettable memories.
Tour Highlights
Moulay Driss medieval holy town

Roman ruins at Volubilis

Hike Todra gorges

Sighting Barbary apes in the cedar forest

Visiting a Berber family for tea

Panoramic views of the Eastern High Atlas mountains

A night of Berber music and dancing

Crossing the High Atlas mountains

Oasis of Tafilalelt and Ziz Gorges

Hike through the Erg Chebbi dunes
What's Included
Active Morocco:
All activities in the Atlas Mountains

11 nights accommodation in riads, hotels, and guest houses

1 night in Sahara desert camp

Saharan camel ride

13 days transportation by private minibus

13 days with your in-country host who will be with you for the entire trip

All breakfasts are included

7 lunches are included

8 dinners are included

Guiding, sightseeing and entrance fees to monuments
Includes Mt Toubkal Hike:
3 nights accommodation in Hotels, Guest Houses

1 night at the camp

2 days transportation by private minibus

Luggage and equipment transportation by mules during the hike 

4 days with your in-country host who will be with you for the entire trip

All breakfasts, lunches, dinners
Day 1

Marrakech

Marhaba! Welcome to Morocco! On arrival at the airport, you will be greeted by your in-country host, a highly experienced guide from the Atlas Mountains. We have a direct transfer from the airport to our hotel in Marrakech in our private vehicle. On arrival you will be welcomed with a cup of Moroccan mint tea – the first of many! Your welcome dinner will be in one of the local restaurants in the art deco city of Marrakech.
Day 2

Marrakech - Armed

Included:

Hotel

Breakfast
Lunch
Dinner

Today we leave Marrakech behind and drive across the plains towards the ancient marketplace of Tahanaoute, with awesome views of valleys and the Atlas Mountains along the way. We arrive at Imlil village, which is 1740 metres above sea level. We'll then enjoy an hour hike to the mountain base in the village of Aremd. In the afternoon, stretch your legs with a gentle orientation and walk around Aremd. Your accommodation tonight is a gite, a traditional village house with dormitory-tyle room furnished in the traditional Amazigh (Berber) style. On warm nights it's often possible to sleep out on the terrace under the stars.
Day 3

Armed - Mountain Refuge

Included:

Hotel

Breakfast
Lunch
Dinner

It's time to begin your ascent of Mt Toubkal, North Africa's highest peak! From Armed, the trail crosses the floodplain of the Ait Mizane Valley, before climbing steeply in a zigzag up the mountainside. Along the way, pass the pilgrimage site of Sidi Chamarouch, home to the tomb of the local marabout (Muslim holy man). From here, climb steeply through a series of switchbacks and traverse the flank of the valley above the river. Arrive at Toubkal Base Camp at Neltner. Enjoy a hearty dinner and a good night's sleep before the big ascent day tomorrow!
Day 4

Toubkal Summit + return to Marrakech

Included:

Hotel

Breakfast
Lunch
Dinner

Embrace an early start this morning and tackle the rocky terrain that leads to the summit of Mt Toubkal. At 4167 metres above sea level, this is truly the roof of North Africa. Take in the beautiful silence of the morning while you make the final climb, which can involve some scrambling. Your effort is rewarded by superb views from the summit, which on a clear day can include the entire Atlas Mountain range and the Sahara Desert. After a rest at the summit and time spent marveling at the view, make your way back down to Armed and then transfer to Marrakech.
Day 5

Marrakech - Bin El Ouidane (Active Morocco Day 1)

Included:

Hotel

Breakfast
Lunch
Dinner

Depart in the morning from Marrakech to Bin Louidane Lake for a walk and lunch at the Ouzoud waterfalls. After lunch, we will continue driving to Bin El Ouidane. Once checked in at our guest house, we go for a kayak at the end of the afternoon at oued Laabid, a beautiful lake to explore from the water. Enjoy a lovely relaxing dinner and spend the night at the guest house overlooking the river.
Day 6

Bin El Ouidane

Included:

Hotel

Breakfast
Lunch
Dinner

A lovely early morning start for a long hike along oued Laabid River, with sites like the Cathedral rock and the Berber villages to explore. Lunch will be at a family house in a Berber village before we return to the start and relax for the evening with some happy hour drinks and sunset on a private boat at the end of the day.
Day 7

Bin El Ouidane - Todra

Included:

Hotel

Breakfast
Lunch
Dinner

Transfer from Bin El Ouidane to Todra Gorges, crossing the High Atlas Mountains. Arrive and check in at the Kasbah hotel located in the heart of the gorges. At the end of the afternoon, we will be going for a 2 hour walk in the oasis. This is our opportunity to discover how locals farm in the oasis and learn about the southern architecture and lifestyle.
Day 8

Tinghir/Todra Gorge

Included:

Hotel

Breakfast
Lunch
Dinner

With two nights in Tinghir near the Todra Gorges, it is the ideal time to explore. We'll head off on a half day walk with a local guide which will take you from our Kasbah and up to the top of the Gorges to see some spectacular views. The Loop Hike is demanding but achievable for anyone with a reasonable level of fitness. It offers incredible desert scenery and dramatic cliff-like terrain on snaking trails that lead through high limestone wadis, along which are strung traditional Berber villages and palmeraies. On our return we can sit back and relax by the pool, soaking up the breath-taking scenery, maybe a relaxing drink, and a lovely dinner.
Day 9

Todra - Sahara

Included:

Tent

Breakfast
Lunch
Dinner

We head for the Sahara Desert via the lush green oasis of Tafilalelt and the Kasbahs. On our route, we visit a Berber museum to learn about the history and culture of Morocco's indigenous tribes. We arrive in the Sahara in time for a hike through the dunes. We will have camels to carry our bags with an optional camel ride into the desert. We will be experiencing the Sahara by hiking the highest dunes in Morocco and seeing the dramatic shadows and hues of the Erg Chebbi. At the end of our hike we will take a camel ride to watch the sunset and return to the camp. Our dinner is cooked at the camp by our caravan drivers tonight.
Day 10

Sahara - Midelt

Included:

Hotel

Breakfast
Lunch
Dinner

We leave the Sahara behind us and start driving through Gorges du ziz. Watch the changing landscape from the arid Sahara to oases and rolling plains. We arrive at the majesty of the Atlas Mountains, Ayachi Peak, where we have trout fish for lunch. After lunch we transfer to Tatiouine, where we start our hike to discover the nomadic lands of Ait Merghad tribes. During our hike we will have the opportunity to visit the home of a Berber family to have a cup of tea. At the end of the day, we will return to our Kasbah overlooking the Eastern High Atlas mountains.
Day 11

Midelt - Volubilis

Included:

Hotel

Breakfast
Lunch
Dinner

We leave Midelt early and head to the Middle Atlas Mountains for an easy hike in the famous cider forests. We will have the opportunity to see Barbary Apes and some of the oldest trees in the north of Africa. In the afternoon, we will discover Morocco's most impressive Roman ruins at Volubilis. Beautifully preserved mosaics depicting Roman myths and legends can be found among the remains of the merchants' houses of this once-important city. Tonight we'll be staying in a riad in the sprawling town of Volubilis.
Day 12

Volubilis - Fes

Included:

Hotel

Breakfast
Lunch
Dinner

We have a short transfer to Fes, considered the intellectual and spiritual heart of Morocco. Today it is the opportunity to sightsee a live museum and do plenty of walking to experience, taste, see, hear, and interact with Fes medina, Fes delicacies and share 1200 years of history with its locals. We are going to explore the most preserved part of it, including its incredible alleyways, tanneries, Caravanserails, Alqaraouiyine University, Medieval medersas, handicrafts, the souks, markets and some, but not all, of the 10,000 streets! It may be a big day but you'll be travel fit by now, so get your walking shoes back on for this wonderful day out.
Day 13

Fes - Casablanca

Included:

Hotel

Breakfast

Unfortunately the adventure has to end somewhere and today is our last day. We'll transfer along the coast back to the city of Casablanca where you can spend some time exploring at your own pace and staying a bit longer, or heading direct to the airport for your departure and safe traveling onward or homeward. You'll have a huge experience behind you and many new memories to share and inspire others.
Accommodation
All our riads, hotels and guest houses on this trip are 3-star comfort. All have clean and comfortable rooms with ensuite bathroom facilities. All accommodation has been checked to ensure a good standard of comfort and cleanliness. If, for any reason, our preferred accommodation is not available, we have alternative options of the same standard in each location. Our hotel at the beginning of this adventure in Marrakech is a 3 star comfort. It has clean and comfortable rooms with ensuite bathroom facilities and is located in the Gueliz ville nouvelle of Marrakech at a walking distance to the main attractions in the city. In the Atlas mountains, we will be staying in a guesthouse owned and run by a family. The group will share the showers and the toilets. We also have a few nights staying in tents, which are twin share with the same gender. The tents are comfortable and include all linen, bedding etc to ensure you have a comfortable night's sleep. Please note that some accommodation is traditional in Morocco and may not be what you are used to, and other nights will be just perfect - so bring your enthusiasm and adaptability and be ready for an adventure!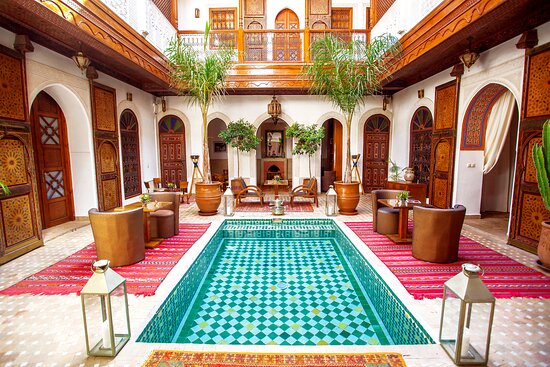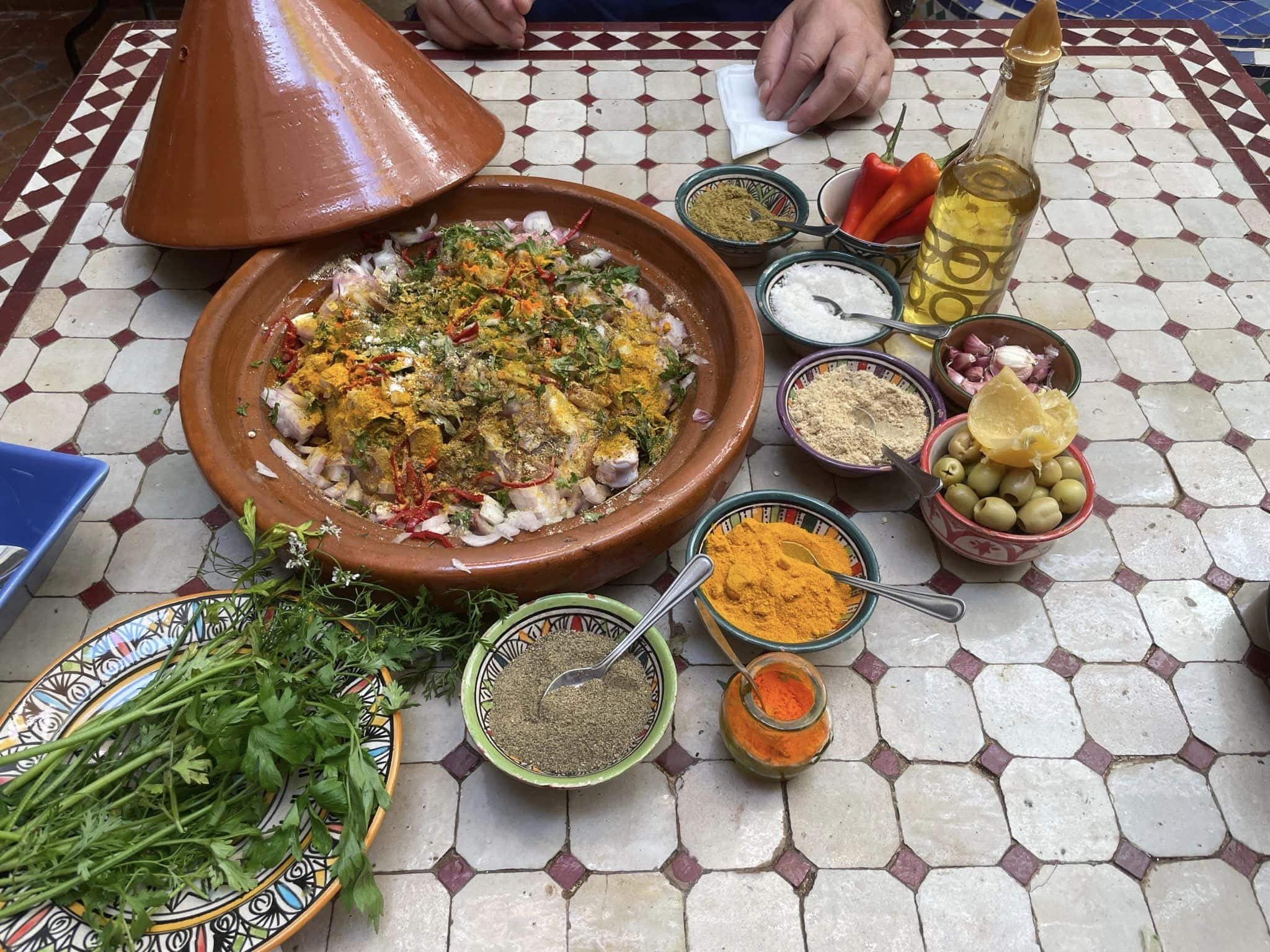 Food
Daily breakfast, lunch and dinner on most days (see detailed itinerary) is provided for guests. Food will be prepared to high standards and most intolerances and dietary requirements can be catered for. Please contact us if you have any special circumstances. As always, we will do our very best to ensure you are catered for. How does this food sound? Tagines and other Moroccan delicacies served in local restaurants & guest houses Enjoy a camp dinner in the Sahara Desert prepared by our caravan drivers Experience dinner amongst the vibrant food stalls in the heart of Marrakech Medina
What our adventurers have said
We are yet to explore this wonderful country. Watch this space for some post-trip testimonials!
BOOK NOW
Upcoming Dates
Morocco
Start: April 20, 2024 9:00 am
End: May 2, 2024 5:00 pm
Price: $4695
Members Price: $6795
0 left
Morocco
Start: October 5, 2024 9:00 am
End: October 18, 2024 5:00 pm
Price: $4695
Members Price: $6795
0 left
Secure your spot with a non refundable deposit, and have the remainder payment be automatically split over additional payments. Proceed with booking to choose your payment option. See here for our payment plan details terms and conditions.