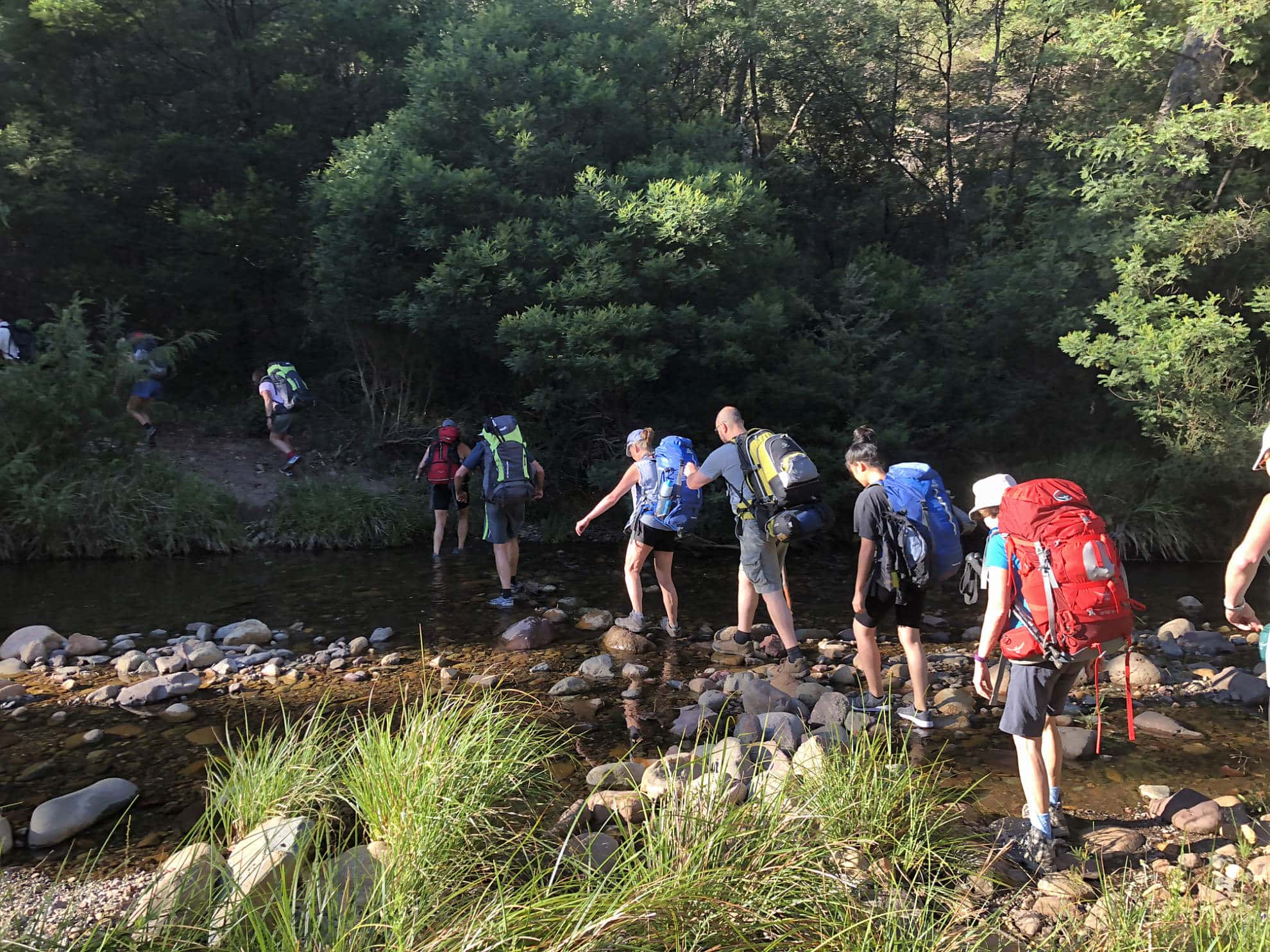 Overview
These wonderful trips are designed to give the overnight hiker an opportunity to explore beyond the reach of just a day walk, without the anxiety of a long day carrying a heavy rucksack. They involve a pack carry on the first day, then two or three day walks with just your small bag and heading back to  your standing base camp each night. They are a wonderful opportunity to blend your love of the outdoors and the challenge of a multi-night tent experience without being too far from the safety and security that a base camp can provide.
Lake Tali Karng is a hidden jewel nestled deep in the mountains of Gippsland, fed by snowmelt waters of the Wellington Plains. The lake is believed to have been formed about 1500 years ago when a massive rock slide collapsed into the valley damming the waters of Nigothoruk Creek above Wellington River. The water runs underground from the lake to emerge as the infant Wellington River 150m below in the Valley of Destruction.
This route to Lake Tali Karng begins at the third bridge over the Wellington River, about 22 km north of Licola. The route follows the Wellington River upstream for 17 km, crossing the river 16 times. These crossings are just perfect in summer for cooling off the feet and at the higher crossings provide super cool clear water to fill up your drink bottle. Continue past Riggall Spur Track to Clive Lanigan Track which climbs steeply through the Valley of Destruction and onto the Lake.
This is a reasonably demanding walk, because the first section is reasonably flat walking, it is with a full rucksack and has many river crossings, and then the next section which has no big rucksacks is quite steep and rocky underfoot for part of the journey. Although Lake Tali karng is the destination, the walk along the river is definitely the highlight and we always make the absolute most of this beautiful feature.
We can assist with a range of equipment and planning so you don't have to worry, and also help you out with what to bring and how much to carry, provide pack lists and may be able to help out with getting to the start location. We'd love to see you on this exciting experience to take your day walking or overnight hiking to a new level and head into the wilds with the security of a base camp and our supportive and experienced staff.
Upcoming Dates
No hassle, no stress
Itinerary, accommodation, food...TSA has it covered! Join us on this adventure without the stress of organisation so you can focus on getting the most out of your trip.
Expert guidance
Highly trained and experienced tour guides who bring the adventures to life. Our guides are remote first-aid trained and carry powerful UHF radios, PLBs, and first-aid kits.
Great community
Create long-lasting connections and friendships with like-minded people. Our community is one of the largest hiking communities in Australia and we're growing every year!
Hiking and scenery
Experience the best wildlife, scenery, and trails around the world. We take you on the paths less travelled to create unforgettable memories.
What's Included
Overnight hiking gear if you require it. (Tent, Sleeping Mat, Rucksack)
Full catering, dinner, lunches and snacks including all dietary needs
Experienced & qualified guides
12km pack carry into base camp beside the river.
Set up a standing camp for 2 nights.
A single day hike without your rucksack.
Enjoying the beauty and remoteness of Lake Tali Karng
Spectacular river walking.
Day 1

Day 1

Included:

Tent

Lunch
Dinner

Meet at Licola at 11am and drive a further 20min as a group to the starting location. We will then provide lunch and get all our gear ready to start walking around noon, enabling enough time to enjoy the 12km up to the campsite, which will involve up to 16 river crossings. Once at camp, we'll set up and enjoy the evening by the river.
Day 2

Day 2

Included:

Tent

Breakfast
Lunch
Dinner

Today is a small pack carry so you can either bring a day bag or empty your overnight bags and carry the few items you need. We then continue up river to the aptly named Valley of Destruction which is a rough and scramble to the Lake, which will take a few hours. (9km)We'll enjoy lunch at the lake and spend enough time there to make the most of the amazing scenery. We will then head back to camp to enjoy dinner. And hopefully a star filled evening in the high country
Day 3

Day 3

Included:

Tent

Breakfast
Lunch

Pack up and walk back downstream over the multiple river crossings on our way out. This downstream day with lighter packs will allow us plenty of time to get back to our vehicles and head back home without any rush. This walk is not one for those not afraid of getting wet feet! with multiple river crossings all through day one and three you will have constantly wet shoes. However the scenery is magnificent and this walk is a definite one to cross off the bucket list and will stay in your memories forever. Not an easy walk but oh so rewarding..
Food
Full catering, lunch and snacks including all dietary needs
Where we're going
Licola Picnic Reserve. 8 Jamieson-Licola Rd, Licola VIC 3858
What our adventurers have said
BOOK NOW
Upcoming Dates
Lake Tali Karng
Start: January 26, 2024 11:00 am
End: January 28, 2024 3:00 pm
Price: $695 $695
Members Price: $495
12 left
Book now