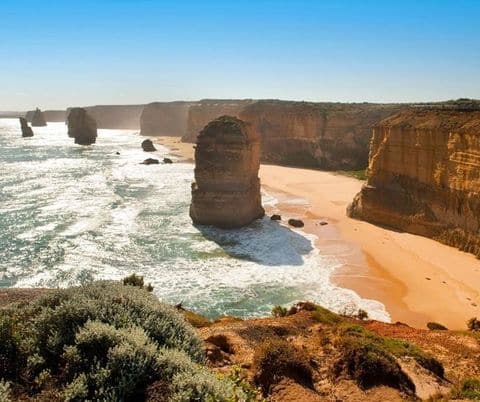 Overview
Enjoy the hike with a little less to carry…. If you love to hike but also love the comforts of prepared meals and a comfy bed at the end of your day, our packless hike with accomodation is for you!
There is nothing like Australia's Great Ocean Walk located on the Great Ocean Road region between Apollo Bay and the iconic Twelve Apostles, hugging the coastline for more than 100km. On this 3 day section around Cape Otway, you can feel nature's drama unfolding at every step, and every day is different.
Create your own unique experience and discover this section of wonderful Australian coastline as you walk beneath tall trees, across rock seashore platforms, along deserted beaches and soak in breathtaking cliff-top vistas. Join a wonderful group to explore this excellent scenery, enjoy the beautiful sunsets.
A small group, this one is for the busy person who wants a weekend to get out and do something, see one of Victoria's best hiking trails, escape the screens and not have to carry a backpack! This is the perfect hassle free weekend, we take care of everything so you can focus on wellness, fitness and being yourself. The itineraries are a guide, and your TSA guide will design the weekend to give you the most out of the areas, each other and living life!
Upcoming Dates
No hassle, no stress
Itinerary, accommodation, food...TSA has it covered! Join us on this adventure without the stress of organisation so you can focus on getting the most out of your trip.
Expert guidance
Highly trained and experienced tour guides who bring the adventures to life. Our guides are remote first-aid trained and carry powerful UHF radios, PLBs, and first-aid kits.
Great community
Create long-lasting connections and friendships with like-minded people. Our community is one of the largest hiking communities in Australia and we're growing every year!
Hiking and scenery
Experience the best wildlife, scenery, and trails around the world. We take you on the paths less travelled to create unforgettable memories.
Tour Highlights
No special equipment is required for this trip.
What's Included
Two nights in twin accommodation
Nutritious, healthy meals and snacks
Dietary requirements catered for
Professional wilderness guide/s
Amazing scenery and wildlife
Great social fun, supportive and encouraging atmosphere
Day 1

Day 1

Included:

Hotel

Breakfast
Lunch
Dinner
Day 2

Day 1

Included:

Hotel

Breakfast
Lunch
Dinner
Day 3

Day 1

Included:

Hotel

Breakfast
Lunch
Dinner
Accommodation
Comfortable accommodation, twin share
Food
The food will be provided by both accommodation chefs and our very own adventure chef. We prepare and cook your delicious and nutritious dinners, lunches, all snacks and breakfast. We can cater for any nutritional needs.
Where we're going
Great Ocean Road, VIC
What our adventurers have said
BOOK NOW
Upcoming Dates