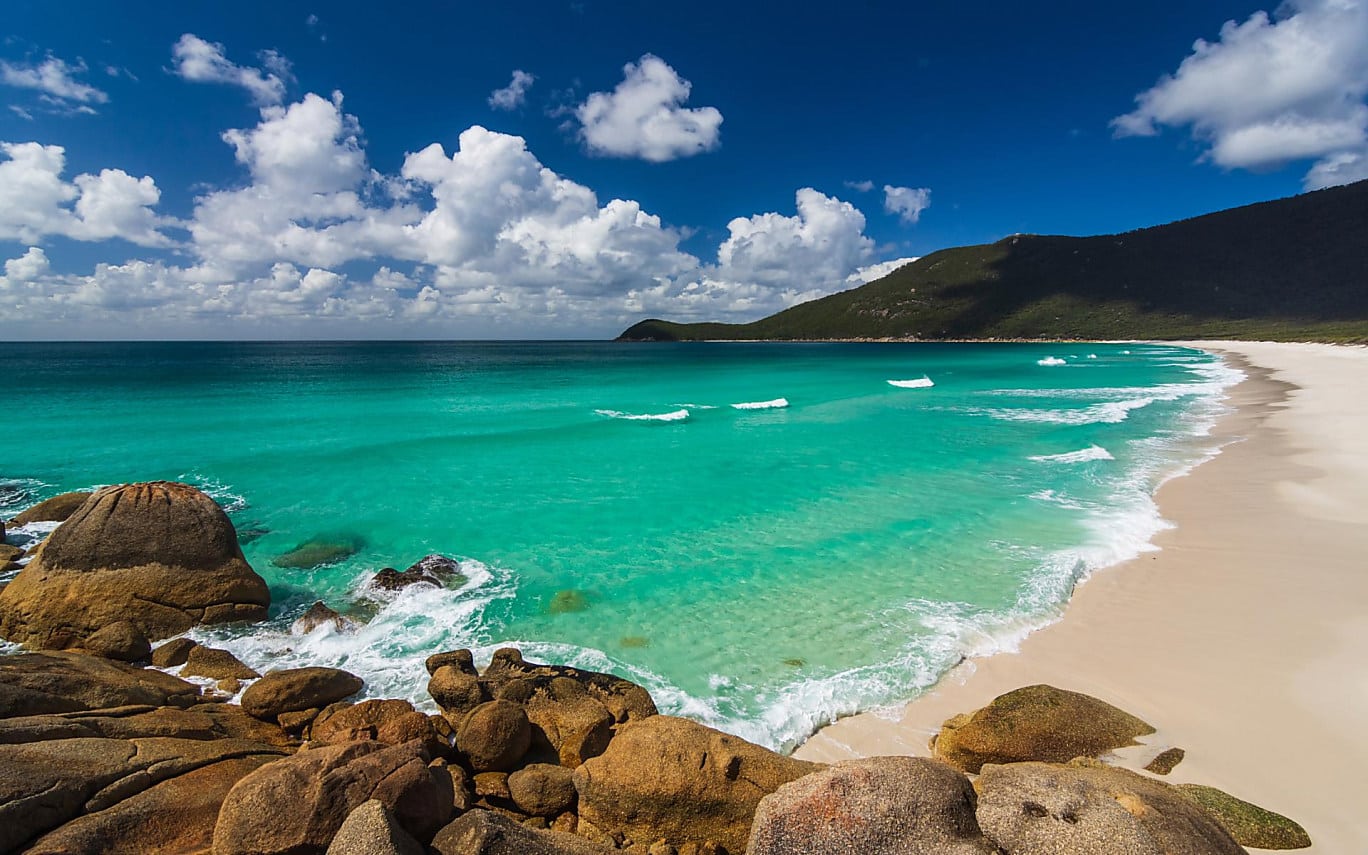 Overview
Pristine sand, turquoise water, local flora, native fauna. All of this and more on one of the best overnight hikes in Victoria. Make your way straight from Tidal River along the windy west coast of Wilsons Prom, then make the crossing right through the middle of the park to the beautiful east coast and the delightful waters of Waterloo Bay and your secluded campsite at Little Waterloo Bay.
This spectacular walk skirts through terrain where the mountains of the promontory collide stunningly with the sea, bordered by beautiful lichen-covered boulders. You'll spend the night under the stars just off the beach, hearing the rustle of leaves in the wind, and the surf of Waterloo Bay.
This out and back 12km walk each way is perfectly suited for an overnight trip. This trail is breathtakingly beautiful, and yet very accessible as a first longer overnight walk. The track is good underfoot, and comprises mostly gravel and sandy trails with a few short beach sections. Bring this adventure to life and enjoy this awesome experience.
All this is topped off by a delicious healthy lunch, dinner and snacks, and a fun, social group atmosphere. Our guides will carry the extra equipment, and prepare dinner at the end of the day, making it easy for you to relax and enjoy yourself!
Upcoming Dates
No hassle, no stress
Itinerary, accommodation, food...TSA has it covered! Join us on this adventure without the stress of organisation so you can focus on getting the most out of your trip.
Expert guidance
Highly trained and experienced tour guides who bring the adventures to life. Our guides are remote first-aid trained and carry powerful UHF radios, PLBs, and first-aid kits.
Great community
Create long-lasting connections and friendships with like-minded people. Our community is one of the largest hiking communities in Australia and we're growing every year!
Hiking and scenery
Experience the best wildlife, scenery, and trails around the world. We take you on the paths less travelled to create unforgettable memories.
What's Included
Overnight hiking gear if you require it. (Tent, Sleeping Mat, Rucksack)
Full catering, lunch and snacks including all dietary needs
Experienced & qualified guides who know where to go and how to get you there.
Scenery (guaranteed) & wildlife (if you are lucky and nice and quiet)
Qualified Wilderness First Aid Support
Our wonderful TSA enthusiasm!
Day 1

Day 1

Included:

Tent

Lunch
Dinner

After meeting at Yanakie we'll drive in convoy to Tidal river and advise where to park. This is dependant on where we start due to recent track closures. Once we're underway we'll have time for a few breaks during our hike and we aim to get to camp mid afternoon. This allows time to explore the beautiful beach and go for a swim. Pre dinner snacks and dinner will be prepared as evening descends.
Day 2

Day 2

Included:

Tent

Breakfast
Lunch

Up early as you want, the sunrise mustn't be missed as it rises over the water. After breakfast we pack up and retrace our steps once agin with enough time for breaks to admire the scenery. We aim to be back at Tidal river about 3pm allowing time for your journey home or you may want to stay longer and enjoy more of the most amazing beach at Tidal river.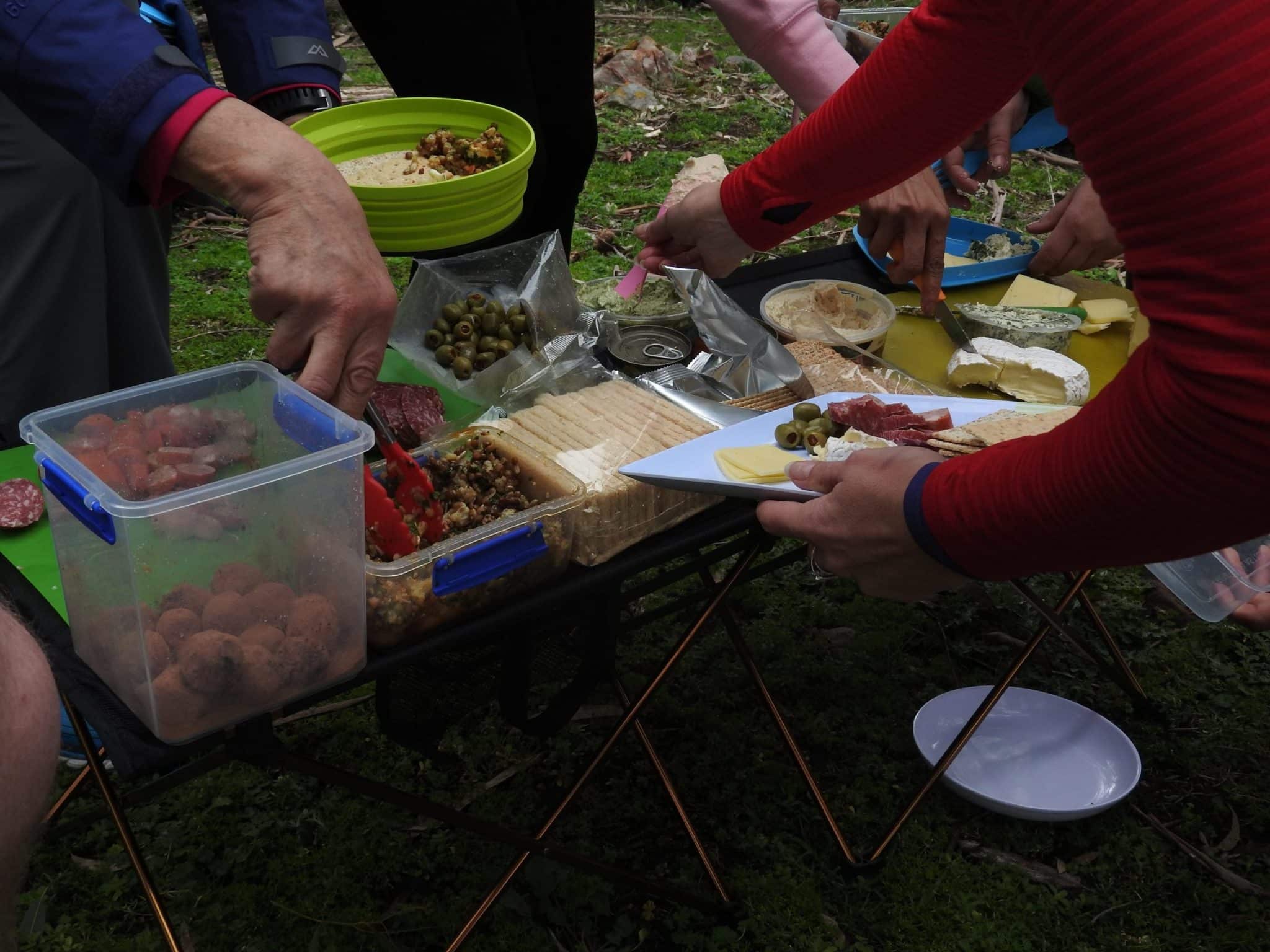 Food
We provide nutritious dinners, lunches, all snacks and breakfasts. We are big food enthusiasts so be prepared to have freshly ground coffee, delicious snacks, beautiful vegetable based salads, wraps and cheeses. All this food is energy filled to sustain you on the track - oh! and lets not forget a sneaky dessert to give you energy for day two. Our guides prepare all your food and our qualified chef/nutritionist will ensure that your dietary requirements are met. Please ensure you have advised us of any allergies when booking your ticket.
Where we're going
Yanakie Hall & Recreation Reserve. Yanakie, Vic 3960
What our adventurers have said
Watch this space for a testimonial, coming soon :)
BOOK NOW
Upcoming Dates
Waterloo Bay
Start: February 10, 2024 8:30 am
End: February 11, 2024 3:00 pm
Price: $495 $495
Members Price: $315
12 left
Book now